Mammoth Lakes, CA – I am a New Englander. I was raised to
love cold and snowy winters, with weather that could turn on a dime. I relish
the small town vistas scattered amongst the ancient hills that here, we call
mountains. I am used to relatively short drives to my local hill, or perhaps
a somewhat longer drive to "destination" resorts in Vermont, or perhaps New
Hampshire. In short, I was raised to look down on the glitz and pomp of sunny
L.A. and, by extension, its favorite ski area: Mammoth Mountain Resort.
n
I had four days in April to prove or disprove the validity of the preconception,
escorted by my brother Jeff (long gone to the Dark Side, having lived nearly
10 years in L.A.), his wife Marni, and a gaggle of their friends.  They had
crowed for years that I didn't know what I was missing in the High Sierra. 
It was time to put aside my doubts, and see for myself why a bunch of lunatics
would drive 6 plus hours every weekend to ski.  Surely, they must be poor, confused
souls, with no basis upon which to compare.
For anyone who has ever known me, and especially for those who know me well,
this is for you: I was wrong.  Yep, I said it.  As wrong as fantasizing about
Rosie O'Donnell in a bikini. 
VIEW? WHAT VIEW?
Waking up after arriving in the middle of the night, I was treated to spectacular
vistas of the Sherwin Range, lying south of the town of Mammoth Lakes. It takes
only one look at these ancient crags to understand why legends such as John
Muir and Ansel Adams were so captivated by this range.  The view was, for lack
of a better word, mammoth.  As if that wasn't enough, I was treated to a view
on the other side of our condo of … nothing.  Absolutely nothing could be seen
out of the other side, because the windows were completely buried by the snow
lying on the north side of the condo.  Did I mention that I was sleeping on
the second floor?  Because I know that I mentioned that it was during April. 
The drifts?  They were, for lack of a better word … well, you get the picture.

(Click image to open a full-size trail map in a new browser
window)
Dave McCoy first stumbled across the snow-clad slopes of Mammoth Mountain as
a hydrographer for the Department of Water and Power, the powerful California
utility responsible keeping Los Angeles' massive thirst sated.  Situated at
the head of an East facing valley, an offshoot of the massive Owens Valley (made
famous in the movie Chinatown), he knew through his work that the snowpack
on and around Mammoth was deeper than anywhere else in the region.  According
to Joani Saari, Mammoth's Media Relations Manager, there are as many theories
for this abundance as there are people in Mammoth Lakes.  Perhaps it's that
there are only a few mountains directly to the west of Mammoth, forcing the
storms rolling in off the Pacific to wait until colliding with the 11,000 foot
Mammoth Crest before dumping their precipitation and moving on.  Whatever the
reason, McCoy and his wife began using a portable rope tow in the vicinity of
the old Chair 1, now the Broadway Express, in 1938. 
Between the Depression, World War II, and a lack of cash, McCoy didn't get
around to installing Chair 1 until 1955.  Mirroring the explosive growth of
Los Angeles, its main customer base, Mammoth added more and more terrain, and
lift after lift, to become the largest ski area in the country by the mid 1980's
with over 1.6 million skier days. 
FIRST IMPRESSIONS
Arriving at the main Mammoth lodge, there didn't seem to be any ski racks on
the parking lot side of the building.  I strolled up to the crisply uniformed
parking lot attendant to ask where I could put my skis.  His incredulous response:
"Take them in with of course.  This IS a ski area."  I was shocked.  I can't
think of a single area in the East that would let you take your poles into the
lodge, let alone skis.  But like the vistas earlier that morning, the inside
of the lodge was, let's shoot for a change and say Brobdingnagian.   The stairwells
were 15 feet wide with ceilings just as high.  Spacious, airy, somewhat underutilized,
but just plain big.

Mammoth's new Panorama Gondola
But this isn't Better Homes and Gardens, it's a ski magazine, so how
about it?  After picking up my ticket, I headed straight for the new Panorama
Gondola.  With the deep pockets of Intrawest to bankroll their vision (more
about them later), Mammoth has completely transformed its lift infrastructure
in the last several years, and the two stages of the Panorama Gondola are testament
to that change.  The top section was completed in the summer of 1998 to replace
the aging and frequently wind-affected summit gondola.  The lower half was completed
for 1999-2000, and the combination of the two whisked me over 3,000 feet of
elevation in less than 10 minutes. 
I had three thoughts upon stepping out of the gondola house at the summit. 
First off, this place is BIG (dare I say Mammoth?).  Mammoth basically sits
on a huge North-South massif, the main mountain spilling off the front with
primarily a western exposure.  Off the back, there is a swath of South Easterly
facing terrain that seemed to go mostly unnoticed by the skiing public during
my stay, but which would be bigger by itself than most resorts I've ever skied. 
The second thing I noticed was the wind.  It's a good thing my father didn't
come here 15 years ago, because his old toupee would have been half way to Fresno
by lunch.  The upper two thirds of Mammoth are basically bereft of trees and
now I know why.  It was a beautiful sunny early April day, and a persistent
wind of 20 to 30 miles per hour was surging over the Mammoth crest, kicking
up venturi all along the ridgeline.  The snow crystals were whipping into my
face like tiny airborne missiles
The last thing  I noticed was that the beauty of the Sherwin Range earlier
in the morning paled in comparison to the vistas from 3,000 feet higher.  I
could clearly make out the Minarets to the north, and though almost 10 miles
away, they felt like I could almost reach out and touch them.  Their grandness
and beauty both humbled and awed me.  Off the back, I could see range upon range
of snow-covered peaks, and what looked like Yosemite Valley far in the distance. 
Though it is relatively close by, I was later to find out that it wasn't Yosemite,
but the whole area is so beautiful, who's counting?
AND … THEY'RE OFF!

High-speed Mammoth corduroy
I chose to start the day on Cornice Bowl, a relatively steep and wide-open
groomer.  Though rated expert, it was probably the easiest way off the summit,
at least off the front side.  The headwall, however, is indeed steep and worthy
of its single black designation.  I glided to the top, edged over and … zoom! 
I was off to the races.  Carving wide GS turns on this impeccably groomed slope
was not only a great warm-up, but also an absolute buzz, the likes of which
I hadn't experienced since those "experimental" days in college.  In five blissful
turns, I was a thousand feet lower, yet higher than I had ever been. 
After a brief stop to catch my breath (as much from the excitement as the 10,000
foot altitude) and to put goggles over my now-tearing eyes, I continued downwards
towards the base on the wide blue cruiser St. Anton.  Some seconds later, I
was at the base, still trying to put the fire in my hair out from going Mach
2.  Yum!!!  There are very few trees on the upper two thirds of Mammoth.  The
trails are not truly trails in the traditional Eastern or even Colorado sense. 
They are more like suggestions, groomed pathways through a glorious alabaster
expanse.
Unfortunately on this morning, that glorious alabaster expanse was not filled
with an ocean of spring corn.  No, the usual main course for Mammoth devotees
in the spring was off the menu, as the relatively cool weather and chilly wind
conspired to keep most of the off-piste off-limits.  I ventured often into this
world, only to be quickly turned back by furiously chattering skis and teeth-rattling
vibrations.  Not much fun to be sure.
So for the rest of the morning, I kept trying different routes down the lower
half of the mountain; Sanctuary, Triangle, Gold Hill, and other runs accessible
from Chair 5.  On that Gold Hill run, I looked up to my left to see one of the
faces of Lincoln Peak – a mostly expert mountain which, though itself quite
large, is still just a small sub-peak on the southern end of Mammoth.  It seemed
certain that there were primarily southern exposures to be found there.  So
I made a beeline for Chair 22, which rises up the very steep north face of Lincoln
(sans safety bar I might add) and skated over to the face I had spotted. 
First turn and….yahtzee!!  I had stumbled upon a massive face of widely spaced
trees flanking both sides of a lift line – Mammoth simply calls it Sunshine.  
I call it yummy!  I sliced and diced the mashed potatoes which had softened
up perfectly, but not so much that I couldn't maneuver at will around the trees
and bumplets.  It was an exquisite treat that I was ready to repeat again and
again; after all, there was so much to explore on this face. 
My skiing partner had other ideas, and we decided to head over to the Mid-Chalet
for lunch.  Three lifts, two peaks, and several runs later, we reached the lodge
which sits on a large plateau where stages 1 and 2 of the Panorama Gondola meet. 
The building was, predictably … mammoth, as was the selection of foods.  Sushi,
egg rolls, and massive loaded baked potatoes supplemented the traditional ski
lodge fare of burgers, hotdogs , chili, pizza, and everything else greasy under
the sun.  I took my usual portion, which has often been described as large enough
to sustain entire villages in the Third World.  The tuna sandwich, baked potato,
chili, and egg roll were all tasty enough.
After another 15 minutes to digest and hydrate, I headed up the Facelift Express,
a lift so appropriately named for a mountain dominated by L.A.-area skiers. 
At the top, where the lift turns you 90 degrees before letting you off-load,
I paused to straighten out my gear.  Now I am well aware of the effect a skiing
lunch has on my gastrointestinal system – unpleasant is a common adjective used
– but the stench hitting my olfactory sensors at that moment was a little more
impressive that I alone could produce.  My brother saw the puzzled look on my
face and pointed out that we were downwind of one of the several active sulphur
vents at Mammoth.  It served as a reminder that Mammoth, and the entire Mono
Lakes region, is one of the most geologically active areas in the continental
U.S.  Signs of volcanic activity in the region abound, including cinder cones,
volcanic plugs, lava floes, and the aforementioned vents.  That alone would
be reason enough to make me come back.
A few quick laps on Cornice Bowl were rewarding for the speed junkie within,
but forays onto the ungroomed confirmed my suspicion that on the front side,
there was to be little softening other than that which I had already found,
so I ventured to the back-side runs of Mammoth, runs which offered spectacular
vistas of the Minarets and the rest of the southern Sierra all the way down. 
With there southerly exposure, I figured them to be certain candidates for
the corn I was seeking.  Much to my chagrin, a few tuns on the intermediate
Upper Road Runner and Arriba disproved this hypothesis.  Perhaps the persistent
strengthening Easterly winds that seemed to funnel onto these runs prevented
any softening.  The teeth chattering feel of the solid snow I traversed was
a dentist's best friend.   On the ride up Chair 14, I spied what I was certain
was eminently carvable off-piste snow.  My enthusiasm was near fever pitch as
I readied to get off the chair, only to be disappointed by closed signs for
the obvious entry points to this stash of south-facing and wind-protected terrain.

Mammoth's ridgeline includes some serious steeps
Feeling somewhat defeated, I tried to keep a brave face by exploring other
areas of the mountain.  I once again took the gondola to the top and skated
South for a look at Dave's Run.  Though windy and predictably solid, playing
along the crest of Dave's and its much steeper double black neighbor Huevos
Grandes was a delight.  With a small layer of sugary snow blown into this area,
it was at times a delight.  It just went to show that fun on a tough ski day
is where you find it.
I was now back in the general area of Lincoln Peak and immediately headed for
Chair 22 again so I could return to the delights of Sunshine.  Though the snow
was beginning to set up in the weakening late afternoon sun, it yielded the
best run of the day, as I was able to hop around the various trees, moguls,
and other obstacles which comprise this precious piece of real estate.  At the
bottom, I was thoroughly exhausted, but happy as can be.  It was 3:00 and time
to head for the condo.  I had found the goods, albeit in small amounts, on what
would otherwise be a miserable day for spring skiing. 
PROGRESS IS IN THE EYE OF THE BEHOLDER
Mammoth's history of rapid growth is evident in the rag-tag bag of architecture
and design, both in the ski area's multiple bases as well as in the town of
Mammoth Lakes.  Much of the construction consists of the vaguely Socialist "California
Sierra" style of construction from the 60's and 70's – square, dull, out of
place, and horribly planned. 
Perhaps it is this very lack of character that led to a curious phenomenon
in the late 80's and into the 90's.  The loyal L.A. area skiers who had made
Mammoth #1, driving 6 hours each way every weekend, were now starting to abandon
it for other locales.  Southern California skiers could now hop on a plane to
Salt Lake City, and be on the slopes faster than if they had driven to their
own in-state champion.  Mammoth, it seems, had become a victim of its own success. 
By 1998, skier visits had shrunken to less than 1 million, a 40% decline. 
Even worse, Mammoth had shown no ability to effectively diversify its clientele,
with over 90% of it skiers coming from Los Angeles.  What Mammoth needed was
someone with deep pockets and real estate experience to effectively re-invent
Mammoth's facilities and create a destination resort.  Guests could enjoy a
weeklong stay, not just a weekend like the majority of the L.A. patrons. 
Enter Canada's Intrawest.  In January 1998, with years of experience building
resort communities at Whistler, Tremblant, Stratton, and elsewhere, Intrawest
purchased 33% of Mammoth from the McCoy family.  Soon thereafter, this figure
rose to 58%, but with the McCoy's retaining day-to-day management control. 
Though Intrawest is known as a ski resort owner and developer, its roots are
in property development, skills effectively leveraged in Mammoth Lakes. 

Mammoth Inn
Intrawest is at the heart of approximately $750 million dollars of investment
currently planned for the mountain, the base area, and the town.  The company
aims, for the first time, to build a proper base area for the mountain, against
what is now a mish mash of different entrances, lodges, condos, and architectural
styles.  It will develop a massive area covering almost 250 acres at the base
of the resort.  Intrawest is  building thousands of housing units, golf courses,
and shopping, all centered around several massive lodges and a new gondola.
The Mammoth Mountain Ski Area and the Town of Mammoth Lakes are doing their
parts as well.  The town is investing $175 million dollars with the aim of improving
public facilities, walkways, and other infrastructure.  The mountain is in the
midst of a five year, $130 million dollar revamping.  New lifts, mostly high-speed
quads, are replacing the old, slow fixed grip doubles and triples that used
to predominate.   The Panorama Gondola is also a new treat, replacing the old,
wind-prone version.  New lodges, eateries, and improvements and expansions upon
the old, are also all in evidence.   At present, Mammoth has no plans to expand
beyond its current borders.  For environmental and practical reasons, a mooted
connection with the McCoy-owned June Mountain, some 20 miles away, remains a
pipe dream.  With 3500 acres to play with at Mammoth alone, few are complaining. 
The final, and perhaps most controversial part of the plan involves the raising
of $90 million of private and governmental funds from the local and federal
levels to improve and enlarge the small municipal airport, situated six miles
outside of town.  The ski area believes that the centerpiece of its strategy
to become a destination resort is to attract out of state visitors who will
come and stay for the normally dead mid-week periods.  Since ski resort costs
are largely fixed, these extra consumers are pure profit.  The current airport
is too small to handle even the smallest commercial jets, so the runway is to
be extended.
Mammoth currently has a letter of intent from American Airlines to start service
from its Dallas hub by December 2002.  Many locals fear this will just exacerbate
the already palpable tendency for town residents to be priced out of the housing
market, as in other mountain communities such as Aspen and Telluride.  With
the size of the town commitment so large, many wonder whether Mammoth Lakes
is biting off more than it can chew. 
Former Olympian Andrea Mead Lawrence is among the leaders of the fight to make
sure all of the growth currently planned for the town is properly conceived
and controlled.  Lawrence, who ironically was a student of McCoy when he was
an Olympics Coach, does not want Mammoth Lakes to lose what many residents moved
there for: the quiet sense of community in a beautiful mountain environment. 
For certain citizens of the town, it is already becoming difficult to find
reasonable priced housing, and Mammoth admits that employee is housing, "… is
a difficult issue."  This year alone, the ski area took 300 beds out of the
commercial bed base in order to utilize it as low cost employee housing.  And
Saari admits that housing is a problem which will only get bigger in the future
if action isn't taken. 
The controversy has caused some second thoughts amongst members of the Mammoth
Lakes City Council, who have recently been adding a raft of new conditions to
the keystone real estate investments.  These new conditions have forced Intrawest
to rethink their entire Mammoth strategy, to the point where it is now endangered. 
Mammoth Mountain, whose history is a modern day success story, faces an uncertain,
but potentially brilliant, future.
HEY! DIDN'T ANYONE ORDER SPRING??!
As the second day dawned, I immediately headed for the TV to catch the weather
report.   Alas, the weather Gods were up to their old tricks again.  The strong
Santa Ana winds would not only continue today, but were forecast to strengthen
in intensity with gusts exceeding 80 mph on the crests.  Arriving at the top
of a windblown Chair 22, I was able to see the summit and confirm my worst suspicions:
All lifts to the crest were on wind hold.  I quickly headed for Sunshine again,
hoping to take refuge from the swirling winds and frozen tundra elsewhere. 
CHATTER!!!  No luck whatsoever.  It was still too early in the morning for the
south face to soften up, and the strong wind and cool temps certainly weren't
making things any easier.  Denied access to the top of the hill, and with prospects
for any interesting skiing on the middle third dimmed for the moment, our little
posse retreated to the relative warmth of the lower mountain runs.  These all
lacked challenge and intrigue, save for one shining exception: the Unbound terrain
park.
For the next several hours, we jumped, slid, and tweaked our way around what
has to be the most complete terrain park that I have ever come across.  Served
by its own high-speed quad, the Thunderbound Express, the park contains multiple
jumps, hits, pipes, and rolls.  One could spend hours there and never hit the
same feature in the same way twice.  Uniquely, Mammoth has moved an old city
transit bus halfway up the park to serve as a midway café and rest area.  Blaring
new wave music from my beloved early 80's (can you say "Flock of Seagulls"?)
combined with the crowd on the lift to push me on to ever more elaborate and
high-flying stunts. 
After an hour of playing around, I headed in to chat again with Saari and sit
down for a sumptuous lunch featuring the truly gargantuan Mammoth burger.  This
was not your typical $8 ski hill burger.  It was an enormous and delicious $8
ski hill bronto-burger.  Coupled with a cold drink and the ever-present warm
California sun, I was content to kick back for an hour and just watch life pass
by in front of me.  But it was a ski day, probably one of my last for the season,
and I had more exploring to do. 
I made my way back over to the southern half of the mountain to see if Sunshine
had softened up yet.  Alas, at the bottom of Chair 22, I was greeted by a disheartening
sight: the winds had closed the only available way to the top of Lincoln Peak. 
I would have to search further afield for decent conditions. 
Chair 9 at the extreme southern boundary of Mammoth seemed a likely candidate. 
As I rode to the top, I could see that this area held a vast amount of terrain. 
Spanning three distinct zones – above tree line, intermittent scrub, and below
tree line – the Chair 9 region was chock full of rolls, gullies, and wide-open
faces.  Rising to the left was the imposing north facing ridge known as the
Dragon's Tail. 
At the top of the Chair I debarked with no small amount of hope.  The strong
Sierra sun had warmed my face for the entire 11-minute journey to the top. 
Surely, it would have the same effect on the snow.  Once again, a couple of
quick turns on the top section told the story for the day here.  Despite its
WSW aspect, it was simply too cold and windy to allow for any appreciable improvement
to the frozen mess that had set up the previous night.  This area would be something
to watch for later in the trip when the winds died down.
With my options exhausted, I traversed all the way over to the terrain park. 
What more fun can you have than hours of flinging oneself towards the heavens
in an only somewhat controlled manner?  My thoughts exactly.  In all, what started
out as a total disaster of a day turned into one of the more pleasing, if somewhat
painful, ski days in memory.
CORN ON THE COB
As the sun came up on Day 3, I leapt out of bed once again and raced for the
TV.  Aaah, just what the doctor ordered: light to moderate winds, weakening
even further as the day went on, with temps in the upper 50s.  It was going
to be a Spring ski day to remember.  I headed for where else? Sunshine, baby! 
By the time I got the top it was 9:30, and I was concerned that it hadn't had
time to soften up yet.  My first turns quickly dispelled those silly notions
as I swam in a creamy sea of goodness.  Dancing in and out of the trees and
small bumps dotting this magnificent face, I was having the time of my life. 
Today was Saturday, and Chair 25 was open for the weekend, allowing more convenient
access to this area without traversing all the way back to the bottom of Chair
22. 
At the bottom of 25, I met up with Billy from Marin County, north of San Francisco. 
Billy, normally a Tahoe skier, had driven 8 hours from the Bay area with some
friends to try out Mammoth's renowned Spring skiing.  He sure had a knack for
timing.  The two of us yo-yo'd up and down Chair 25 for the next hour or more,
each run taking us to a slightly different area on the Sunshine face.  
It was absolutely heavenly, but that's another California ski area after all. 
With the low winds and warm temps, I knew other areas would be firing off before
long.  We raced towards the bottom of Chair 9 to see what goods that enormous
swath of terrain had been hiding for the past two days.  While the top 400 verts
were still crunchy, the snow began to soften with each turn.  Taking care to
stay on the most sun-exposed sides of the various rolls and gullies, we enjoyed
buttery soft snow most of the way down.  My brother, who had foolishly slept
in, found us half way down to the bottom of the chair.  Perhaps he wasn't too
far gone, after all – he knew where the goods were.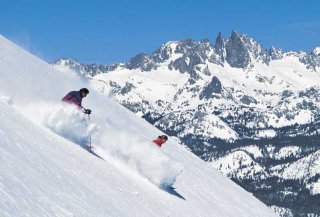 Mammoth powder
Jeff, Billy, and I took another couple of laps on Chair 9, each time enjoying
a new treat that few of the customers that day seemed to know about.  By this
time it was almost noon and we headed for the designated lunch spot at the sun-bathed
Mill Café.  A delicious, freshly prepared steak sandwich, and still more friendly
staff awaited me there, not to mention strong sun and magnificent views of the
surrounding peaks.  Combined with the fabulous morning on the snow, I was enjoying
a Spring skiing day for the ages, and it was only half over. 
Since this was most certainly the day when southern exposures would be corning
up better than any normal East Coast skier could dream, I insisted that we immediately
head to the normally sun-drenched back side of the mountain for a return engagement
with Chair 14.  At 2:00, we jumped on the lightning-fast Stump Alley Express
and skated over to the top section of the Gondola.  All told, it took us less
that 10 minutes to gain well over 2000 vertical feet – I like that.  We edged
over the back and something had indeed changed.  Whereas on the previous two
days I was thrown about like a rag doll trying to negotiate solid rock, the
surface underfoot today was vaguely edgable, and we hadn't even made it to the
wind protected areas yet.  This was getting good. 
As we made our way further and further down Arriba, the snow became progressively
softer.  We would occasionally drive over to skiers' right where the south facing
aspects of the bottom of Phillipe's and Surprise came into play.  These forays
were the final proof that this entire gloriously empty region – with several
hundred acres practically a ski area within a ski area – was ready for some
Grade A Spring skiing. 
Near the top, my heart sank as we were greeted by that pesky "trail closed"
sign again.  Admittedly, there was the odd thin spot here and there, but surely
nothing to warrant a complete closure.  But just as quickly as I had lurched
into a deep depression, I was given a new cause for hope.  Two brave pioneers
had skated our to skiers' right, toward the unsettlingly steep top of Paranoid
Flats.  Instead of taking a right and commencing a ludicrous free fall, they
skated onwards and cut through some scrub and boulders to come out 10% of the
way down the delicious looking hillippe's.  Well, damned if I wasn't going to
join them. 
We rushed over as fast as our lungs would allow at this 10,500 foot elevation. 
We finally reached the crest of the hill and…aaaaahhh, that's much better. 
Smooth, soft, buttery corn, could anything (short of two feet of fresh powder
overnight followed by a bluebird day) be better?  I think not. 
We picked our way down Phillipe's, hucked off a catwalk halfway down, and attacked
the widely spaced trees to skiers' left of the intermediate Surprise.  It was
indeed worth the wait.  No matter how steep things got, our skis dug into the
snow even more ferociously, allowing us to attack the slope with reckless abandon. 
A repeat performance was in order, so we pulled the same trickery at the top,
followed by yet another sublime and quintessentially Sierra run.  This time,
I even ducked out onto the perfectly groomed Surprise to carve a few turns into
the unblemished corduroy.  Not even one other soul had found the trail that
day, and I enjoyed complete serenity as I arced back and forth across the fall
line, tall conifers on either side of me. 
At the bottom, I stopped and gazed back at the trail to admire my handiwork. 
A lone set of tracks slicing down the middle of a glorious band of white.  This
was skiing.  But, as they say, all good things must come to an end.  It was
now 3:00 and we had to make our way several miles south to the condo. 
With a heavy heart, I did just so.  Though I had enjoyed three great day of
skiing, long after the vast majority of snow sliders had turned their thoughts
to golf, I could never really be sated.  Call me greedy, but the glaring white
snow, the deep blue skis, the rich greens of the softwoods, and the inspirational,
soaring Sierra was difficult to leave. 
A half-hour later, we finally dragged our sad carcasses inside.  We were of
course thrilled with our epic day of skiing we had just enjoyed.  At the same
time, we were thoroughly and completely exhausted.  After all, this place was,
well … Mammoth.