Steamboat Springs, CO – High-speed GS turns arced down
the Vagabond trail as I chased Cathy Wiedemer, Steamboat's charming Public Relations
Manager, as she sped downhill on her telemark gear. Wind whistled past my ears
as I swept from one trail edge to the other at the edge of my personal speed
envelope. The feeling was invigorating. It had been a day of "lather, rise,
repeat" on the groomers, yo-yo'ing high-speed detachable quads and the
resort's six-passenger gondola. Considerable time had elapsed since the last
dump of Steamboat's famed "champagne powder" (a term, incidentally,
coined in Steamboat), and the woods were tracked out, sun-baked and refrozen.
While things in there looked enticing, all it took was a couple of turns to
fully understand that things are not always as they seem. With a five-year average
of 363" of annual snowfall, this was clearly atypical.
n

Steamboat Ski Area
No matter, though. Steamboat's grooming fleet had made lemonade from lemons,
and what the off-piste and mogulled cover lacked in forgiveness it more than
made up for in amplitude. It had been a banner early season, and the mountain
was well-covered, with nary a rock in sight – even on the ungroomed natural
snow terrain. Elbow room abounded in all but the busiest on-mountain locations.
The picture-perfect cloudless sky and the comfortable temperatures were the
final ingredients in an overall stellar day.
The day had started, however, with a groan. I had flown into Denver from the
east coast the previous evening, and arrived at the colossal new airport on
the northeast side of the city at 7:30 p.m. By the time I embarked upon the
expedition to the baggage claim (seemingly covering as much ground on land as
I had in the air), secured my luggage, and found my way to my rental car, it
was pushing 9:00. I was facing three hours behind the wheel to Steamboat, crossing
the Continental Divide an equal number of times.
I sped through Denver, vacant of traffic at this hour, and the Chevy Storm's
four-cylinder engine whined as I-70 climbed through Idaho Springs and Georgetown
en route to the Divide at the Eisenhower Tunnel. The nearly full moon illuminated
the snowfields atop Loveland Pass as I sailed into one end of the cavern and
emerged on the other, dropping precipitously into Silverthorne.
It was here that the drive became interesting – or perhaps not, depending upon
your perspective. The road from Silverthorne to Steamboat Springs covers 90
miles with only one true intersection – and that accounts for the singular village
on this stretch as well. The moonlight was welcome: in addition to granting
stunning views of the vast rangeland, its light also served to point out the
abundant wildlife – a total of 18 deer, one grey fox, and a lone snowshoe hare.
The brakes on that little Chevy received a workout equal to that experienced
by the accelerator.
Coming down off of Rabbit Ears Pass, I was stunned to emerge from the wide
open spaces and enter civilization as if finding an oasis in the desert. A large
and well-developed resort climbed the lower flanks of Mt. Werner, with grooming
machines working the slopes above those snuggled in their beds. The glow of
downtown Steamboat Springs loomed beyond as I exited Route 40 at Mt. Werner
Circle and climbed the hill to my own cozy room – exploration of the town would
have to wait for another day.
By the time I checked into the new Steamboat Grand Resort Hotel at midnight
– 2:00 a.m. according to my body's clock – my eyes were bloodshot and my eyelids
were swollen. I stumbled upstairs in an exhausted stupor, fixed my bed, and
flipped the switch on the gas fireplace, quickly collapsing in sleep as its
flickering light soothed my nerves, edgy from the drive.
As always seems to be the case, the sentinel alarm sounded much too early.
The picture window above the fireplace showed Steamboat in all its glory, as
the grooming fleet put the finishing touches on the hill in the pre-dawn light.
Shops and restaurants in the resort's Clock Tower Square, Ski Time Square, and
Gondola Square were all immediately across the street. I took my time … poured
a cup of coffee, then a second one as I stretched a bit before wandering out
in search of nourishment.
The Grand's primary restaurant, "The Cabin" offered an enticing morning
menu, but I was more in search of a quick bite. I spotted a Starbucks in Gondola
Square – their chocolate croissant was just what the doctor ordered. I booted
up and headed to the gondola for my planned rendezvous with Wiedemer.
Up the gondi and down Vagabond for the perfect warm-up run. We repeatedly cruised
the Storm Peak Express and Sundown Express lifts as well as the gondola. Steamboat
has a mature and substantial network of lifts, 20 in all, and virtually every
acre has a high-speed detachable option accessing it, save for the Morningside
Park area on the back of Mt. Werner. The latter delivers a pleasant but short
cruise through conifer stands, dropping 542 vertical feet before ascending back
to the summit aboard a fixed grip triple chair.

Chute 1 and The Ridge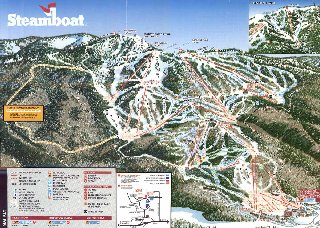 (Click on image to
open a full-size trail map in a new browser window)

Some of Steamboat's bumps

The ski area forms
a backdrop for
downtown Steamboat Springs
The Morningside Park lift provides the important benefit of access to Mt. Werner's
front-side summit trails without the need for a short hike from the top of Storm
Peak, and it is here that Steamboat's only true steeps that I found lie. Chutes
1, 2 and 3 are short but precipitous drops into a lightly-treed saddle, while
Christmas Tree Bowl is a larger gladed area carrying a double-diamond rating.
Alas, the firm snow had convinced the patrol to raise the ropes on these areas,
and we descended instead via The Ridge to Big Meadow, both of which would be
a delight with fresh cover.
Steamboat is at first a difficult hill to get a handle on. While the overall
vertical drop is a healthy 3,668 feet, the mountain's geography yields few opportunities
to enjoy all of that in one shot. Different drainages and exposures dictate
that runs dropping plus or minus 2,000 feet are the norm. That does have its
benefits, however, for as the ski resort primarily faces west, these convolutions
yielded colder, chalkier snow on northern exposures, while classic tree lines
such as Closet and Shadows still had firm, sun-baked snow from the afternoon
sun.
Steamboat is oft-criticized by expert skiers for lacking super-steep terrain,
and while not entirely accurate, the steeps that exist are admittedly short
and relatively few. Bump fans will find their share of moguls, as very few of
the black diamonds observed had been groomed. Intermediates will be in heaven,
as a full 56% of the marked terrain is dedicated to them.
Beginning skiers will find an expansive area of novice terrain right in front
of the base complex, served by no fewer than seven short lifts. Green circles
dot the trail map from mid-mountain on down.
We retired to the sun deck outside of Gondola Square for lunch at the outdoor
barbeque, featuring local Yampa Valley beef in its hamburgers. The bright sun
and dry air made it feel more like March, despite the fact that the temperatures
clearly said January. Sitting outside was a delight.
It was College Week at Steamboat, and the resort bustled with activity. Shredders
of both the one- and two-planked variety were tearing up the terrain park, which
featured the Bud Light Superpipe event for the day sponsored in conjunction
with Palmer Snowboards. Adjacent to the terrain park is Steamboat's timed race
course. Conveniently, the park is served by its own double chair, allowing new-school
fans and racers alike to run circuits with a minimum of fuss. All manner of
special activities and festivities were arranged both on the hill and après-ski
to make the winter breakers feel welcome.
It'd be tough for anyone to not feel welcome here. Steamboat Springs is an
authentic western ranching town, and the downtown area located a couple of miles
north of the ski area is an eclectic mix of resort amenities and down-home earthiness.
Some western resorts may fill an image void by placing a cowboy on their brochure
– in Steamboat Springs, ranching is still a way of life. In fact, one gets the
sense that resort operations and local lives are inseparably intertwined here,
and the antipathy often found between tourists and locals at other resorts seems
noticably absent.
"One thing that separates us from other Colorado resorts is that we've
been an incorporated city for 100 years," explained Wiedemer. "Our
town was here prior to the ski area being here. Skiing is a part of the western
ranching heritage and Steamboat's the only one to have both. We're known for
our open spaces, we're known for friendliness … we are a real ranching community.
It's not plastic cowboys."
Perhaps the closeness of the Ski Company and the community also has something
to do with the way that ski history and Steamboat Springs' history are so closely
nested together. James Crawford, Steamboat Springs' first settler, was attracted
to the Yampa River Valley in 1874 by reports of idyllic scenery and a mild climate,
and built his cabin on the west branch of Soda Creek. Steamboat Springs draws
its name from the rhythmic chugging sounds produced by the hot mineral springs
in town – in fact, Yampa means "Big Medicine." There are 157 mineral
springs in the area, both medicinal and recreational. The springs still serve
travelers today, as their water supplies pools operated by Steamboat Health
& Recreation and also natural pools in Strawberry Park, some 7 miles north
of town via jeep road.
Although early settlers used skis and snowshoes as a means of transportation,
the arrival of Norwegian Carl Howelsen in 1912 turned residents' focus to using
skis as recreation. An accomplished ski jumper, Howelsen built a wooden platform
in Strawberry Park and began teaching his love to local youth. He organized
the first winter carnival and jumping competition in 1914, and the town ski
slope was named Howelsen Hill in his honor in 1917. All of that in five years
– and new arrivals today apparently receive the same warm welcome nearly 90
years later.
Still present today on the western bank of the Yampa River in town, Howelsen
Hill's lifts rise 440 vertical feet and run both day and night as the oldest
continually operating ski area in Colorado, and two ski jumps are used there
by the U.S. Nordic Combined team for training and to host an annual World Cup
event. Town facilities at Howelsen Hill Park also include a cross-country trail
network and an ice arena. The Steamboat Springs Winter Sports Club trains there
in all disciplines: freestyle, nordic, special jumping, nordic combined, and
alpine. In fact, at 43 and counting, Steamboat Springs has produced more Winter
Olympians than any other town in North America.
Steamboat Ski Area opened on the other side of town in 1961 with a single poma
lift, spearheaded by local rancher Jim Temple, and engineered and built by John
Fetcher, whom we had the good fortune of bumping into on the slopes mid-mountain.
Fetcher himself drove to California and delivered the bullwheel for the first
lift with his own truck. He enjoyed the unique honor of being the first rider
on the original Thunderhead double, the last rider on the original Thunderhead
double, and first rider on its replacement, the Thunderhead Express. As a member
of the Ski Patrol's courtesy staff at the age of 89, Fetcher's enthusiasm for
the hill clearly hasn't dimmed a bit.
After closing for a season due to a lift manufacturer's inability to deliver
on a contract for a double chair, Steamboat reopened on January 1, 1963 during
a severe cold snap that, according to Wiedemer, limited lift ticket sales to
one. After three different owners in as many decades, Leslie Otten's American
Skiing Company stepped in during the 1997/98 ski season. While some townspeople
initially resisted ASC's purchase, there seems to be an independent spirit at
Steamboat that has not been whitewashed by ASC or any other out-of-town corporate
owner.
As would be expected in such a well-developed ski town with a long history,
Steamboat has many amenities, including a true plethora of lodgings of over
20,000 beds and more than 75 restaurants and bars, proportionately located both
in the downtown area and on the hill. Over 10,000 pillows are located within
300 yards of the ski resort's base.
At Wiedemer's recommendation I sampled dinner at Antares, tucked away on 8th
Street near the Yampa River. Sure to dispel any "cow town" myth, Antares
brings a remarkable level of sophistication to Steamboat, and my plate was graced
by Thai Chili Prawns sauteed with snow peas and straw mushrooms in a spicy coconut
curry, served around fragrant jasmine rice. Other menu offerings include Grilled
Australian Lamb Chops, Elk Crosby, a meat and game Mixed Grill, and Ruby Red
Trout Filet. The wine list is easily the equal of the cuisine.
For those seeking more adventure in their dining, several eateries are perched
at Thunderhead atop Steamboat's gondola for nighttime dining and entertainment.
Hazie's offers a high-alpine bistro with the sparkling lights of the Yampa Valley
below, Stoker's opens as an evening comedy club, and Ragnar's is a short snowcat-drawn
sleigh ride from Thunderhead serving continental cuisine with a Scandinavian
flavor and live acoustic entertainment.
The new Steamboat Grand, representing an $80 million investment, is the first
hotel property owned by the ski area. 328 guest room accomodations include hotel
rooms, one-, two- and three-bedroom suites, and eight penthouses, all complemented
by meeting rooms and conference facilities, an outdoor heated pool, three dining
facilities, a fitness center, and underground parking. The whole package is
located 120 yards from the lifts.
One needn't go to the trouble that I did in order to reach Steamboat, which
has an extensive direct flight program. Non-stop flights from Raleigh/Durham,
Dallas/Ft. Worth, Denver, Houston, Los Angeles, Minneapolis/St. Paul, Newark,
and St. Louis all land in Hayden, 22 miles west of the resort, and connecting
flights to Hayden are available through any of those cities. Charter jets also
fly to Hayden from Dallas/Ft. Worth, and commuter service is available several
times per day from Denver.
Steamboat offers a unique blend of an authentic western experience, friendly
townspeople, a large ski mountain with ample intermediate terrain, and bumps
and a few short steeps to entertain experts – all reached via a direct flight
to the local airport. A nearly perfect destination.