Mont-Tremblant (QC), Canada – When ski resort conglomerate Intrawest
purchased Québec's Tremblant resort in 1991, it bought a mountain largely
thought to be past its prime. A true ski history mogul, Tremblant had fallen
on hard times and was floundering financially.
It's amazing what a measly little $800 million will do!
n

All of this, and mini-golf, too.

Trails and lifts of the Versant Sud rise above the Village.

At the base of the mountain, one will now find a gargantuan
Disneyesque psuedo-Québecois pedestrian village, replete with 75 shops
and restaurants, a first-run cinema, condos galore with underground parking,
an indoor/outdoor aquatic center … even a mini-golf course!  On the mountain,
the visitor will discover trails lined with tower-mounted snow guns, festive
pole-mounted banners and flags announcing one's entry to a different sector
of the mountain, and a summit lodge nearly the size of Texas.  About the only
thing that guests won't find is a natural alpine ski experience.
During our recent visit to Tremblant, skiing almost felt like
an afterthought, as there are so many available activities packed into one
resort.  In Intrawest's own corporate words, "While the soul of Tremblant
will always be the mountain, the heart of the resort is now the village." 
Frankly, this seemed a pity in view of Tremblant's importance to the development
of North American skiing.  One needn't ski or snowboard.  Instead, a guest
can stroll the galleries of Art Lane, relax in the Spa at Château Mont
Tremblant, shop for a new dress in the village's boutiques, go for a swim
at Aquaclub La Source, or snow-tube.  You can suffer through a workout
in a health club or lazily sip a cappuccino, dance the evening away in a nightclub,
hop on a sleigh ride, or take in some live music in the Place St.-Bernard. 
The abundance of alternative activities provides the ultimate destination
for non-skiing companions.  It's tough to simply keep track of it all.  But
where does that leave the serious skier?
In our own personal experience, somewhat wanting.  The bottom
line, however, is that Intrawest is giving the snowsports travel consumer
what they want.  This is obvious, judging from the phenomenal growth in Tremblant's
skier visits since Intrawest's acquisition.   Once again, readers of a popular
American print ski magazine (you know, the other guys) rated Tremblant
the #1 ski resort in Eastern North America for the fifth time in the past
six years.  Is this what serious skiers want, or are we just a little bit
nuts?
WE MUST BE NUTS
Admittedly, our opinions buck the common perception.  Intrawest
as a parent is selling real estate like hotcakes, unloading a phenomenal US
$233 million-worth at all of their holdings over a recent 90-day period –
during a time that the North American economy is cooling off, no less.  During
the 1999-2000 winter season, Tremblant played host to some 630,000 skiers
and snowboarders – and that was a lackluster snow year in the Northeast.   

Skiers slide past one small corner of Le Grand Manitou,
Tremblant's colossal summit lodge.

The upper half of Versant Sud

Vertige begins high above the Village and Lac-Tremblant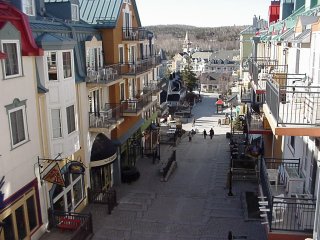 The heart of the Village at Tremblant

The Cabriolet gondola rises above the Village

Children of all ages enjoy maple sugar on snow
ONLINE
VIDEO
A really
short one this time. Join us for this rite of Spring at Québec's
Tremblant. Filmed on location on April 14, 2001.
Formatted for RealPlayer. (Running
time 0:45)
Clearly, we're in a minority. 
It's time for us to face facts here.  The average skier or snowboarder
is decidedly intermediate and expects the on-snow experience to be delivered
in a palatable form, and Tremblant delivers ego-boosting terrain in spades. 
The average skier or snowboarder faces increased competition for his or her
leisure dollar – from theme parks, from cruise ships, and from island retreats. 
What Intrawest has succeeded in accomplishing at Tremblant is to provide a
vacation destination that, dollar for dollar, provides every conceivable amenity
in one location, to effectively compete with these alternative vacation choices. 
Put all of this in a location within a reasonable drive from Northeastern
population centers, where the American dollar goes half again as far as it
does at home, and you've got a winning combination.
THE MOUNTAIN
No matter what's happening in Tremblant's base village, the
mountain is still there, although in a somewhat different form than it had
when Joe Ryan first hiked the mountain sixty years ago and installed the first
lift, and Lowell Thomas broadcast his nightly news reports from its slopes. 
There are some things, though, that you simply can't change, and Tremblant
is still a 2,131 vertical-foot behemoth rising above the otherwise rolling
ancient hills that constitute the Laurentian Mountains.  The skiing exists
on both the east and the west sides of the mountain, although quizzically
they're referred to as "north" and "south."  In all, Tremblant offers a whopping
610 acres of marked terrain, a remarkable figure amongst Northeastern resorts. 
Both sides of Tremblant sport a mid-mountain saddle as a topographical
quirk, enhancing the interest of the terrain but in many ways limiting the
ability to link many of the trails in a nonstop top-to-bottom run.  Newer
developments at Tremblant have expanded the skiable terrain to the southwest-facing
Versant Soleil ("Sunny Side") and "The Edge," a steep sector that boasts
copious tree skiing adjacent to the Versant Nord ("North Side").  Tremblant's
12 lifts, seven of which are high-speed express lifts, carry 25,130 skiers
and snowboarders per hour, although that number was somewhat insufficient
even during our late spring visit.  Lift queues formed at every major lift,
forcing us to consider less attractive alternatives in order to avoid the
crowds.
As we've said, Intrawest understands its clientele well, and
in Tremblant they have the perfect mountain with which to deliver the goods. 
You won't find any nosebleed steeps here.  Instead, you'll find miles and
miles of ego-boosting cruisers, gently pitched bump runs, and acres of widely
spaced tree skiing.  During our visit, we found nothing that a talented intermediate
couldn't survive, even on the double-diamond rated Vertige and Zig-Zag. 
Everywhere you turn, cruisers abound.  On the Versant Sud,
Beauvallon Haut and Taschereau are perfectly configured for
eye-tearing speeds.  The runs on the Versant Soleil have the most character
of any encountered during our visit, and loop, twist and dive via more narrow
routes than the average at Tremblant.  On the Versant Nord, Geant
is a broad boulevard built for cruising, but this face is also home to
Expo, the steepest bump run encountered, and Parc Gravité, a
terrain park of truly epic proportions.  Also on the Versant Nord,
while it clearly began life as a perfectly straight liftline, Marie-Claude
Asselin was a delight as we carved narrow short-radius turns down the
trail's tight confines.  Alas, due to lean late-season conditions, the famed
Ryan trail was not open for skiing at the time of our visit.
Everything is seemingly covered with man-made snow, as tower
mounted snowguns line most trails.  In fact, on the Versant Soleil,
where Tremblant's Vice President of Operations Bryce Fraser trumpets "we agreed
to leave the mountain's natural and winding contours untouched," Tremblant
in the next breath adds that it has covered the new sector with "a new Flowtronex
system, with 75 snow-packing towers."  Is this a contradiction, an ironic
twist, or merely a fact of life, borne of the necessity to cover every inch
of a trail with unblemished cover for the discriminating guest, at an area
that averages only 150 inches of snow annually?
LODGING GALORE
The Village at Tremblant encompasses more than 1,400 lodging
units, the newest of which last season were located in the luxurious Westin
Resort Tremblant, where the paint just dried in November, 2000.  During our
April visit, construction cranes were evident in abundance, continuing the
building boom that is largely responsible for Tremblant's success.
How does a resort fill all of these rooms on a regular basis,
especially during the summer months?  Tremblant last season also put the finishing
touches on the new Centre des Congrès, a $6 million, 23,000 square-foot complex
that doubled their on-site conference facilities with the addition of 12 meeting
rooms and space for up to 1,000 meeting-goers.  Easy access to the metropolitan
Montréal area and its two commercial airports assures Tremblant's success
in attracting corporate meetings and conventions.
The pedestrian streets of the Village are lined with buildings
that sport restaurant, retail and entertainment offerings on the ground floor,
with multiple levels of condominium lodging situated above.  Automobiles are
comfortably hidden in heated basement garages in each.  Also in the Village's
core are the Residence Inn, Kandahar, Chalet des Voyageurs, La Chouette
and Lodge de la Montagne hotels.  The proximity of these beds to the
hub of the Village ensures that any retail, dining or entertainment option
is but a short stroll away.  Our one-bedroom condo in Les Deslauriers
was comfortably appointed and demonstrated quality construction.
Even when not directly tied to the Village core, nearly all
of the lodging at Tremblant is tied to the mountain.  The numerous complexes
in the Domaine de la Forêt utilize the Porte du Soleil chair
to access an elevation between the Versant Sud and the Versant Soleil
that is sufficient to traverse to the base of the Versant Sud, the
heart of the action.  Day skiers ride an open-air Cabriolet gondola to cover
the distance between the day parking lot and the mountain's lifts proper.
Digs range in price from a two-night low of $156 per person
in a hotel-style room during the low season, to $322 per person for two nights
in a two-bedroom suite during peak periods.  (Prices listed are for the 2000-2001
winter season, and are based on double occupancy.)
THAT'S WHY THEY MAKE CARS IN DIFFERENT COLORS
We admit that the vast majority of snowsports enthusiasts don't
share our tastes.  One only needs to look at Tremblant's successful numbers
to understand that.  Tremblant is a snow-bound cruise ship, a winter- wonderland
theme park.  In all honesty, most skiing and snowboarding families will be
thrilled with a visit to Tremblant, and will certainly come away with a smile
on their face, albeit with a wallet that's a little bit lighter.  This sentiment
especially applies to families that include a non-skier or two in their mix,
as the plethora of alternative activities could keep even the most die-hard
wallflower occupied.  The duct-taped hardcore crowd, however, might be better
advised to look elsewhere.  Then again, they're not in Tremblant's demographic
sights.