La Grave, France (September 2002) – What could I write
about La Grave that hasn't already been written? This small French village claims
no more than a couple of bars and hotels, yet it's home to some of the most
extreme lift served terrain on the planet. A "resort" with just four lifts,
no ski patrol, no avalanche control and an unlimited scope to do whatever the
hell you want to without anybody to tell you otherwise … whether it kills
you or not. The imposing mountain of La Meije towers above the village, offering
a total vertical drop of 2,150 meters (that's 7,054 feet) of some of the steepest
terrain in Europe.
n
Let's get one thing straight right from the start: La Grave is
not a place for the vast majority of skiers and boarders. Visitors to La Grave
should be confined to the hardcore, experienced thrill seekers who want the
ultimate in lift served terrain and are prepared to deal with the dangers that
accompany it. If you're a part of the "longer, faster, steeper, deeper" crowd,
you simply have to visit La Grave. Everyone should make the pilgrimage at least
once in their lives, although once might not be enough after feasting your eyes
on this mountain.
Which brings me to the most important part: make sure that you
hire a guide. Or make sure you've left a next of kin address in your hotel along
with your medical insurance details, because you'll need one or the other –
or both – for sure. This is not a place for egos. Get cocky here, and Mother
Nature will slap you firmly in the face. La Grave hasn't been adapted for skiing
and snowboarding. Here, it is you who will have to adapt.
La Meije (photo: Bertrand Boone)
The village of La Grave. (photo: Bertrand Boone)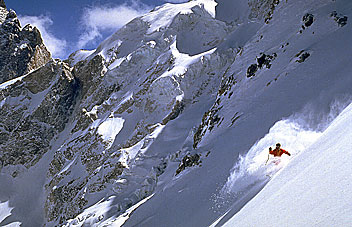 Le Rateau (photo: Bertrand Boone)
Les Vallons (photo: Bertrand Boone)
Les Ruillans (photo: Bertrand Boone)
Click image to open a full-size trail map
in a new browser window.
Pulse gondolas reach toward Ruillans Pass
(photo: Bertrand Boone)
The area is officially
made up of several communities. The small village of La Grave itself is perched
at 1,525 meters in the shadow of La Meije, and is home to some 600 lucky locals.
This village claims most of the hotels and bars in the area, as well as a small
collection of shops. Five smaller villages surround La Grave, offering a total
of approximately 2,500 visitor beds, all roughly a three-hour drive from Geneva
airport.
The locals at La Grave
are a distinctly unique breed. None of your fancy designer labels or newfound
fads exist here – this is not a place to be seen or to show off. What you do
here, you do for yourself and nobody else.
It goes without saying
that safety equipment is a must for anyone venturing onto the mountain, but
again this responsibility lies squarely with you. You'll need at least a transceiver,
shovel and a probe, and the skills and experience to use them, along with any
other equipment you deem necessary for your intended routes for the day. A lot
of these routes may require climbing equipment, but this is all available locally.
Most of the routes available are incredible, ranging from steep narrow couloirs
down 45- or 50-degree slopes, to huge, long-ranging touring itineries. The only
limit is set by your imagination.
As you might imagine,
guides are abundant in La Grave. The local tourist office even supplies guided
tours each day to try to stop visitors from getting into trouble, so there's
no excuse for ending up somewhere you shouldn't be. Unlike conventional ski
areas, there isn't a mad scramble to get to the lifts on powder days in La Grave.
Well … there is, but a queue in La Grave isn't quite the same as in other parts
of France. Nor is there that increased pressure to ride further and further
out of bounds to get to more and more fresh lines before the bloke next to you
on the chairlift does – after all, there is no "in bounds", anyway. Here, as
a rule, if it isn't safe it's left alone until it is. And La Grave is so massive
that the powder lasts for days, not hours as it does in most places. Fifty centimeters
(20 inches) of fresh had fallen the night before our arrival, resulting in decent
conditions.  If it doesn't snow for a while, though, the mountain can turn into
a whole heap of steep, icy moguls.
A twenty-minute drive
from La Grave is the resort of Serre Chevalier, which offers a wider range of accommodations
and nightlife. This resort is also outstanding and is worth a visit if conditions
are bad at La Grave, or if you are with people who are less experienced. The
road between the two villages is fairly flat, but can be closed after a heavy
snowfall – something to watch out for if you're thinking of staying in Monetier
and making the trip to La Grave.
The lift system at
La Grave consists of the two La Meije Glaciers pulse gondolas, one which takes
you to the mid station, and another which takes you to the Ruillans Pass top
station at 3,200 meters (10,499 feet), which is also home to the only mountainside
restaurant in the whole resort. The total trip takes about 30 minutes, which
seems like an awful long time, but let me tell you that you'll be glad for the
rest. Once at 3,220 meters (10,564 feet), you have the option of taking The
Trifides or Dome de la Lauze surface lifts along the flatter section at the
top of the mountain, which extends even further to 3,550 meters (11,647 feet).
This section of the mountain is home to the resort's only two groomed runs,
as the rest of it boasts completely ungroomed virgin snow.
Getting excited yet?
Over the backside of
the mountain is an access to the ski resort of Les Deux Alps, which can be slightly
confusing when you suddenly see people appearing from the middle of nowhere.
The mountain is so big and has so many different routes that I won't describe
them all (nor could I).  Suffice to say that you won't be disappointed. As you
can see from the "piste" map linked from this page, there are two basic lines
down the mountain, descending along either side of the lift.  Both of these,
however, contain almost unlimited route options.
Several companies offer
tours of La Grave, including Doug Coombs' steep skiing clinics and a number
of companies running chalet trips out of the nearby villages. We were there
relatively early in the season, and 2001/2002 wasn't the best snow year, so
our options were limited as far as routes went. I still got to blister some
pretty huge, steep faces at warp speed, though. I'm going back the first chance
I get.
We stopped at the Hotel
L'Edelweiss, which is right in the middle of the village and has a decent restaurant
and bar. I'd definitely stay there again, but there are a few other fairly similar
hotels in the village.
If you choose to visit
La Grave in April, you could always take part in the annual Derby de la Meije.
"The starting gate is located at 3,564 meters in altitude, and the finish line
at 1,416 meters. There is no obligatory gate along the itinerary, which is left
to the competitors' initiative. In certain years the best racers took only 6
minutes to descend the 2150-meter (7.054-foot) drop, with only six turns from
start to finish, making the rest of the descent straight downhill!"
Out of all the places
I've visited in my eight-year snowboarding career, none of them have had the
impact of La Grave. It's a place every powder hound should visit again and again.