Lake Louise (AB), Canada – It's been said somewhere that your chances of scoring powder or otherwise exceptional conditions on an advanced-booked destination ski trip are, at best, in the 35% range. Based on the 25 cross-country or transatlantic expeditions I've made over the past six seasons, that figure seems to be about right. Like most people who don't live a short drive from a world-class ski region and have to bank their frequent flier canada goose Expedition Parka rewards to scratch that itch three or four times each winter, I've had my share of both fantastic and really awful conditions. They say that a bad day of skiing is better than a good day at work. But when you're burning hard-earned vacation days and spending hundreds or thousands of dollars on hotels and expensive flights only to hear from locals that you should have been there last week or even the day before, it's tough to feel lucky.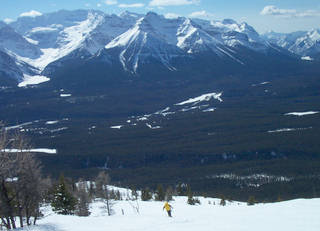 The magnificence of the Canadian Rockies surrounds Lake Louise.
Like most things in life, you make your bed and then sleep in it, but there are ways of maximizing your chances of ending up in a nice bed, especially when booking during what the resort industry calls the "shoulder seasons." First Tracks!! Online's guru of snow stats, Tony Crocker, has touted Lake Louise and Sunshine Village in Alberta, Canada as two of North America's most dependable late-season destinations. Watching from 2,000 miles away, I always wondered how Lake Louise ended up in that group with a 225-inch season average – lower than a handful of mountains in the Northeast. That said, the photos and trip reports I've seen of Lake Louise over the years were more than convincing, so this past season, I finally pulled the trigger.
In the Banff-area universe, the conventional wisdom is that Sunshine Village has better snow, while Lake Louise has superior terrain, and if you could combine the two, you'd have ski nirvana. But when I arrived in the area at the very end of March, Lake Louise was well on its way to logging 313 inches of snow, its highest season total in 38 years. It's a great feeling to get the mid-winter treatmentcanada goose Expediton Parkaat that time of year while pretty much the rest of the continent, east and west, was getting baked by 50-60 degree temps. And to get it at what is deservedly called one of the best all-around ski areas in North America – yeah, baby!
Known as the birthplace of skiing in the Canadian Rockies and site of the only World Cup downhill races in North America, Lake Louise is big. At 4,200 skiable acres (11 square miles of terrain), it's the largest single ski area in Canada and second only to Whistler/Blackcomb, if you count those as a combined resort.
The 1,100-acre front side has a little bit of everything – mostly rolling tree-lined blue and black cruisers, but also a fair number of above-treeline gullies. The back side is 2,500 acres of the stuff you dream of. Steep, consistently pitched powder-filled bowls with tons of lines and terrain features, steeps, cliffs, and even a big glade section with closely spaced trees.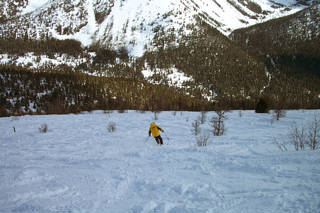 Heading into the Ptarmigan Trees
If you're not into sluggish lift rides, Lake Louise is a good place to go as four of its main lifts are high-speed detachables. Moreover, there's an easy way down from literally every chair, so lower intermediates won't feel like they're being cheated from experiencing the whole show, even on the back side of the ridge.
But before launching into a blow-by-blow report, there's another big selling point to Lake Louise that isn't always headlined in articles. The mountain is located in the midst of Banff National Park, one of the more regulated places in the ski universe. Similar to New York's state-owned ski areas in its "Forever Wild" regions, all development within Banff National Park that's non-essential to the ski area is strictly prohibited by federal environmental bureaucrats in far-off Ottawa. They can't build a new structure, trail, or whatever without first "negating" its impact by removing something else. The resort even has two fulltime staff members whose main job is to deal with the environmental side of things.
While some locals will give you an earful about how the regulations damage the local economy – including the bylaw that you need to prove a "need to reside," i.e. a real job, to live inside the park – when you're standing at the summit of Mount Whitehorn looking in any direction, you'll be grateful that the most jaw-dropping sightlines this side of the Alps aren't crapped up by condos, hotels, or 10,000-square-foot trophy homes.
After booting up in the main base area structure, the Lodge of the Ten Peaks (the second-largest log building in Canada, which will have a redesigned food service area this winter), the ride up the Grizzly Express Gondola gives you a good overview of the front side looker's right – 2,400 vertical feet of rolling tree-lined cruisers covered by Canada's largest snowmaking system, and a big terrain park toward the bottom. While warming up on Wapta and Eagle Flight, I saw lots of steep tree shots that would be great with fresh snow. It was great open-throttle terrain, but the further I got from the summit, things got a bit on the scratchy side. It's here that Lake Louise focuses its snowmaking efforts, bolstered this year by an additional $85,000 CAN in new equipment and upgrades. Lake Louise has added three new portable gun towers for 2007-08 that can be used in six separate locations on the mountain.
Just from those three lift rides, it was clear that I wouldn't come close to skiing everything at Lake Louise in the two days I was there, let alone a week, so I bagged that part of the mountain – which skied like a steeper version of Tremblant – and headed up the Glacier Express Quad, followed by a ride to the summit on the Top of the World six-pack. And that's where it got fun.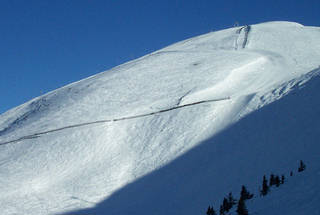 Terrain off the Summit Platter
The snow up top was beautiful: soft, cut-up powder and even a bit of untracked. For the next hour, I did laps down the Flight Chutes and the World Cup course. I then headed over to the Summit Platter, which drags you up 1,345 vertical feet along the far skier's right boundary, where I found Outer Limits and Headwall in unbelievable shape. I'm a big fan of surface lifts and this one is a keeper. Not only can it be run in weather that would put a chairlift on windhold, but it also discourages people from heading to the top (it's a pretty steep ride, so being able to clamp your legs together tightly is a useful skill).
Mid-afternoon, I headed down the back side through the Whitehorn Bowl and did a bunch of laps in the 600-acre Larch Area: a mixture of cruisers, some steep tree shots alongside the quad, and "Elevator Shaft," a hike-to area at the summit of Lipalian Mountain. Traversing skier's right from the top of the lift, you'll find the aptly-named Rock Garden – big squarish rocks that jut out of the ground to create a unique natural terrain park.
By the way, I'd apparently never seen Larch pines before. Standing there with no needles, they reminded me of the pines at Brian Head, the ski area in southern Utah where most of the trees were killed by a bark beetle invasion. But when I asked the guy at the register in the Temple Lodge about them, he looked at me like I asked a really dumb question, then explained that they lose their needles in the autumn and get new ones in the spring: deciduous. Go figure.
My second day at Lake Louise was flawless: cold, bluebird skies, and a few inches of fresh snow overnight. I hooked up with one of the volunteer ski hosts who give guests free visits of the mountain – Dave, a 737 pilot with WestJet Airlines – and asked him to take me around the not-quite-hardcore stuff in the back bowls. With the exception of a few cat-track bail outs, you've got two choices back there: steep and really steep.
The summit panorama at Lake Louise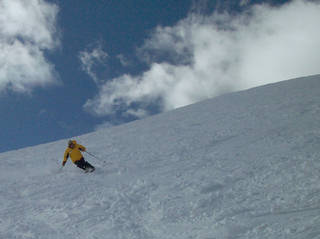 Eagle Ridge
We started at the top of the Summit Platter and headed straight down into Whitehorn Bowl, then went back up for runs down Brown Shirt in Boomerang Bowl, Paradise Bowl, and several runs through the trees at the bottom of East Bowl. From the top of the Summit Platter, you could see a pretty decent-sized slide across the valley on Richardson's Ridge.
While I didn't get deep powder – the only thing that would've sent this trip into the "unforgettable" category – it was one of better ski days that I've recently bagged. The terrain, vistas, and conditions were all worth writing home about. Moreover, in addition to being a great guide with a ton of knowledge of the area, Dave turned out to be an excellent teacher with lots of well-conveyed tips to help get me out of survival mode on the steeps.
Late season at Lake Louise lived up to the hype.
Where to Stay: Lake Louise Inn
Going back to the earlier "making your bed" metaphor, the Lake Louise Inn – just a couple minutes from the hill and with different lodging options for varied budgets – was the definition of a hotel no-brainer. I stayed in the main building, which has an atmospheric, well appointed vibe, but doesn't feel pretentious. With a big indoor pool, whirlpool, steam room, and massage facilities (I got a fantastic Shiatsu), all of your needs after a day of skiing are taken care of. And the scenery outside the big window in my room wasn't too shabby either. In three nights at the Inn, I couldn't find much of a reason to leave, but the village of Lake Louise has a small shopping center less than a five-minute walk away.
Onsite, there are three separate restaurants, so going hungry isn't an option. Legends Restaurant serves an incredible breakfast buffet every morning with as much top-shelf maple syrup as you can slather on your freshly-made waffles (it's amazing how much better the real thing tastes compared to the cheap stuff we usually buy at home). On the second floor is a pizza and pasta café, and in the basement, Explorers Lounge has good pub food and a large-screen TV to watch Hockey Night in Canada (it's always Hockey Night in Canada). While I had great meals in all of the eateries, the upscale dinner cuisine at Legends was exceptional.
For More Information
www.skilouise.com
www.lakelouiseinn.com