Eden, UT – The serenity of an August sunrise is suddenly punctuated by the roar from two 12 million BTU propane burners. The wicker basket rises imperceptibly from the ground, and we're gently flying.
Balloon pilot Russ Griffes of American Fork, Utah, skillfully guides our craft between about a dozen others, slowly rising above Wolf Creek Utah's verdant Festival Field as the first rays of morning sun beam from behind the mountain ridges to our east. Except for an occasional burst of heat from the burners, the smooth tranquility is unmatched on a summer morning. Griffes instinctively seeks out different air currents at various altitudes to gently circle the Festival Field not once, but twice, as other vessels take to the skies before we slowly drift off to the north.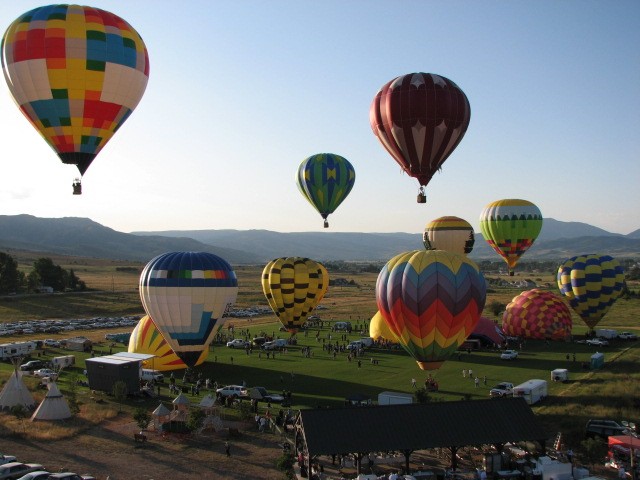 Click the photo above to enlarge it and view all thirteen /images in our story gallery.
There are many ways to enjoy the off-season in ski country, but none more unique than the 15th Annual Ogden Valley Balloon and Artist Festival, taking place throughout this weekend at Wolf Creek Utah and their adjacent ski resort located in the tiny hamlet of Eden, northeast of Ogden and at the base of the steep road leading to Powder Mountain ski area. The full event calendar includes not only hot air balloons but also arts and crafts, international foods, musical entertainment, kids' games, a Mountain Man Rendezvous, climbing wall and Plein Air art competition.
The Entertainment Valley and Entertainment Mountain stages at Wolf Creek Utah Ski Resort feature a full lineup from 9 a.m. to 6 p.m., with a steady stream of diverse musical acts on each platform including Amir Jackson, McCall Erickson, High Water, the Ogden Valley Chamber Orchestra, the Sage Junction Band, the Ghetto Blasters Band and Danielle Vaughn. Wolf Creek Utah Ski Resort is also the venue for the arts and crafts exhibits, international food booths, Saturday's Plein Air art competition and more. Scenic chairlift rides are offered for a nominal fee.
Beginning at 5:30 p.m. the activity shifts to Festival Field, one mile north of the four-way stop in Eden for Saturday night's all-you-can-eat dinner and more music from Che'Zuro, Pladdohg and Shades of Grey. Saturday night's Balloon Glow, when the crafts' propane burners illuminate their canopies brightly against the night sky, shouldn't be missed.
The highlights of the Festival, however, are the launches of the event's namesake hot air balloons. A balloon launch takes place, weather permitting, at 7 a.m. each morning while an all-you-can-eat breakfast is served at Festival Field for $8.00. For those with the urge to take flight, pilots will bring you along for $175 per person.
For those who equate flying with turbulence, gliding through the morning stillness in a hot air balloon is a whole new experience. Close your eyes, and you wouldn't even realize that you're in the air. But it's impossible to shut out the stunning views of the Utah landscape stretching in every direction, from the low foothills at the base of the Powder Mountain access road to the craggy peaks looming above the ski slopes of nearby Snowbasin.
Griffes has only been flying hot air balloons for three years, but has yearned to take flight since his first tethered balloon ride as an infant. After moving to Utah from California and finding out that Utah is, in his words, a "Mecca" for hot air ballooning, Griffes told his wife, "Honey, we've got to have one!
"We have the canyons and the rivers, and the lakes and the streams, the valleys and the hills…and that creates winds at different levels, so there's a lot of flyability here," Griffes explains. "You can go 200 feet each direction and go in a different direction. It's really neat. We have people come from all over the world to fly here. We can do a lot of games and come back to the field, and that just doesn't happen in a lot of other places."
One nearby balloon flies both the U.S. and Canadian flags. Another, the gigantic Energizer Bunny, a.k.a. the "Hot Hare" is based in Missouri. Griffes, however, seems to know most of his fellow pilots and calls out greetings as we pass by one another in the morning stillness. I'm snapping photos like a madman, but there are far more people on the ground taking pictures of us.
Two hours, however, pass like seconds, and before long Griffes is in radio communication with his wife driving their chase vehicle, coordinating a place to land. Griffes spots a vacant field and is ready to put down before we crest a rise and he spots for the first time a barbed wire fence guarding his intended landing zone. We thus put down a bit earlier than planned, his $45,000 aircraft bumping the land with a thud before bouncing once and coming to rest in dry brush next to a new road paved for the next phase of vacation residences.
The Hot Hare is deflating in an adjacent field. "That's what happens when the Bunny's batteries run out," Griffes quips.
I get a taste for just how much work is involved in ballooning as I help Griffes, his family and friends "burp" the balloon and stuff it into what seems like an impossibly small duffel bag. Surprisingly, yet predictably it fits, and I climb into the back of their Suburban for the short ride back to Festival Field.
For those interested in attending this weekend's 15th Annual Ogden Valley Balloon and Artist Festival, visit the Festival's website for more information at www.ogdenvalleyballoonfestival.com. Except for the balloon rides, kids' games and rides, chairlift rides and the climbing wall, all activities and exhibits are free of charge to attend.