Copper Mountain, CO – Copper Mountain opens today for summer activities, events, dining, shopping and more at the ski and snowboard resort on Colorado's Front Range. Copper offers summer guests an array of special events, live music, golf, cycling, Free Fridays at Copper (FAC), base-area as well as on-hill activities and indoor freeride training at Woodward at Copper. Copper Creek Golf Course, North America's highest altitude championship set of links, also opens today.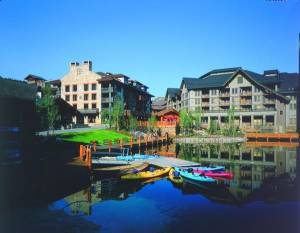 The Copper 2011 summer events schedule includes returning favorites like 3 Ring Weekend, Courage Classic, Guitar Town, Copper Country, Genuine Wine and Jazz and Warrior Dash, in addition to new events such as the Mountain Pose Yoga Festival and the Tomato Battle.
A Summer Season Activity Pass is available at Copper is available for $69 and Summer Activity Day Passes for $39.  Each offers unlimited access to the resort's Quad Bungee Jump, mini golf, scenic chair lift rides, West Lake activities, bike/equipment hauls, the climbing wall and limited sessions per day on Summit County's only go-kart track. A 4 of 7 Day Activity Pass is also offered for $54.
Other ongoing activities this summer at Copper include bocce, Copper Creek, GPS scavenger hunt, croquet, horseshoes, mountain biking, fishing, whitewater rafting, horseback rides and cattle drives, ATV tours and a multitude of West Lake activities. All on-mountain activities are dependent on snow melt and plan to open July 1.
Starting July 1 and continuing weekly throughout the summer, Fridays at Copper include free music and free movies. During Fridays at Copper spend $30 in the Village and you get free tickets to the village activities, from bungee to bumper boats. Guests may redeem the free pass at Guest Services in Copper Mountain Sports in the Village at Copper.
This summer, workers have reshaped the greens on holes 2, 9 and 11 at the Copper Creek Golf Course. Buy today and your Copper Creek 2011 Season Pass costs $399 as rates go up another $200 beginning tomorrow.
Disc golf will return to Copper Mountain this summer as well. The U.S. Forest Service has approved a 9-hole course in some of the same areas where the course used to be, doubling the disc golf playing options in Summit County. Starting July 1, Pizza Carlo is the new home of disc golf at Copper with drink and food specials, course rules and discs for rent as well as for purchase.
In place for the past several summers, Woodward at Copper features The Barn, a 19,400 sq. ft. comprehensive ski and snowboard freestyle training facility complete with indoor artificial snow jumps, jib lines, foam pits, skate features and Olympic fly-bed trampolines. The Barn offers week-long summer camps for those looking to progress their terrain park and pipe skills in the off-season, as well as the Woodward at Copper skate and cheer camps. In addition, the Barn is now open for Drop-In and One Hit Wonder sessions on Saturdays at 2, 4 and 6 p.m., until summer camps end, when the Barn will open seven days a week. There is still space available for most of the eight Summer Camp sessions – to sign up or for more information, call Copper Mountain Vacations at (866) 534-7444 or The Barn at (970) 968-3400.
In this off-season Copper is replacing its High Point ski lift for next winter. As a result, mountain biking and other trail use may be closed or restricted without advanced notice while construction takes place. Hiking and biking trails including Red Tail, Upper Elk Alley and A-Road will remain unaffected.