Washington, DC – The Senate Energy and Natural Resources Committee voted on Thursday to send Bill S.382 – the "Ski Area Recreational Opportunity Enhancement Act of 2011" – to the full Senate for consideration. The bipartisan bill, cosponsored by Senators John Barrasso (R-WY) and Mark Udall (D-CO), would amend the National Forest Ski Area Permit Act of 1986 to allow ski resorts operating on U.S. Forest Service land to expand their non-skiing and snowboarding activities. A counterpart is also currently under consideration by the U.S. House of Representatives.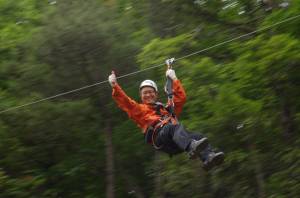 The proposed law would allow the Forest Service to issue permits for "seasonal or year-round natural resource-based recreational activities," provided that such activities are conducted within the developed portion of the ski resort. The bill would permit resorts to apply for permits for activities such as "zip lines, mountain bike terrain parks and trails, frisbee golf courses and ropes courses," while excluding uses like "tennis courts, water slides and water parks, swimming pools, golf courses, and amusement parks."
The change to the permitting rules could help produce an influx of summer business for ski areas. That's good news for local economies which often struggle with the highly seasonal nature of the ski industry and decreased tourism during the summer months.
"By expanding Forest Service permits to include year round recreational opportunities, our bill will create jobs, increase tourism and provide an added boost to local economies," Barrasso said.
Congressman Rob Bishop (R-UT), cosponsor of the House counterpart, echoed Senator Barrasso's sentiments. "Utah is a premier winter recreation destination and offers some of the most legendary skiing in the world. The same mountains and unique geography that draw visitors from around the globe each winter also offer a vast array of off-season recreational opportunities. However, outdated laws are prohibiting these areas from offering year-round recreational access.  Updating the National Forest Ski Area Permit Act will foster increased tourism, encourage job growth and bolster mountain economies across the country," Bishop said.  "While Congress can't create jobs by itself, we can improve laws and create a more certain and rationale regulatory climate that will enable private enterprise to create jobs.  This law does just that."
The bill also replaces references in the Act to "nordic and alpine skiing" with "skiing and other snow sports and recreational uses," a move intended to recognize expressly snowboarding as a permitted use. The 1986 Act predated the explosive growth of snowboarding in 1990's and 2000's and technically permitted only alpine and nordic skiing on Forest Service land, though the Forest Service had long ignored such a narrow and technical interpretation of the Act.
The full text of the bill is available for viewing online.
 David B. Cronheim, Esq. is Chief Legal Correspondent to First Tracks!! Online Media and an attorney at the law firm of Norris McLaughlin & Marcus, P.A. specializing in business and ski-related law. He may be reached via email for comments or questions at DBCronheim@nmmlaw.com.