Park City, UT – The 2011 U.S. Ski and Snowboard Association (USSA) Partner Summit took place last week in Park City with nearly 150 partners and suppliers in attendance, up 50 percent from 2010. Over a dozen elite athletes also took part, including a star-studded lineup of over a half-dozen Olympic and X Games champions. The Partner Summit is an opportunity for the USSA and its supporters to look back on the success of the USSA over the past year as well as plan and prepare for continued growth and integration with USSA partners.
"We're fortunate to have some of the most recognizable and respected brands in the world as USSA partners," said Chief Revenue and Marketing Officer Andrew Judelson. "Having them join our athletes and staff at the Center of Excellence each year leads to the innovation that continues to grow strong, successful partnerships and drive business results."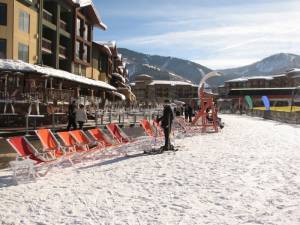 Olympic champions including Bode Miller, Ted Ligety, Seth Wescott and Kelly Clark, along with X Games gold medalists like freeskiers Jen Hudak, Simon Dumont, Jamie Anderson and Tom Wallisch sat on athlete panels and interacted with sponsors, suppliers and staff at the Center of Excellence in Park City.
A tradition of the Summit is recognizing key sponsors for their integration into USSA projects. This year, the USSA recognized six of its standout partners who showed new and innovative best practices.
Best Multi-Platform Integration – Nature Valley
Longtime USSA partner, Nature Valley, has engaged across multiple platforms to develop one of the most comprehensive marketing programs of all sponsors. Nature Valley developed a significant presence in the sport by anchored its USSA sponsorship with a wide range of partnerships with athletes, resorts, sport consumer media, USSA broadcasts and title sponsorship of Bonnier Corporation's NASTAR citizen race series.
Innovating Licensing Program – Huge Sportswear
Huge Sportswear developed and launched a new and innovative signature line of U.S. Ski Team and U.S. Snowboarding products and proceeded to promote their brands through a sales booth at the SIA Snow Show. Huge also increased their sales by 44 percent over an Olympic year by increasing their consumer retail outlets from five to over 50.
Rookie of the Year – Putnam Investments
Putnam Investments scaled up from its introductory athlete investment in Ted Ligety a year ago to become one of the USSA's most productive partners in its first season with the Team. Putnam kicked off its partnership with a media and internal corporate rollout at its world HQ in Boston in October. It then introduced two eye-catching commercial spots that captured the energy and on-the-edge excitement of ski racing.
Best Integration of Athletes – Sprint
Sprint leveraged its longtime partnership with the USSA to personally support eight individual athletes. In addition, Sprint offered a free phone of the athlete's choice and a complimentary phone plan (worldwide unlimited) for an entire year to all A-team athletes with 33 athletes participating.
Event Innovation – Canyons
Canyons Resort in Park City stepped up in a big way for its debut major event with the USSA. Canyons used the Sprint U.S. Snowboarding Grand Prix as a launching pad to publicly roll out its new base and lift facilities. The resort built an impressive, challenging snowboardcross course that was perfectly suited to TV and base area spectators.

Best Supplier Partnership – Head
This past season, Head created a first-of-its-kind global marketing platform around its top athletes. The fun, light-hearted Speedoholics campaign included video, digital and print components to create a wave of viral integration with fans and was well received by athletes. In addition, Head stepped up domestically to support a vital industry initiative, Learn to Ski and Snowboard Month, which is helping to drive new participants to the sport. The USSA is also partnered with the new sport outreach program.