Banff (AB), Canada – Banff. Most folks have heard of it, but it's also true that the vast majority of people visit here in summer. This makes Banff a good choice for a winter destination during the Canadian Rockies resort town's relatively slow season. Of all the places to stay in the National Parks of Alberta, Banff is the most bustling even in winter. Banff is only 1.5 hours from Calgary and lots of skiers head in this direction for a weekend or even a day trip for world-class skiing. There are three major ski resorts within 20 minutes of each other, and it is therefore no surprise that they are marketed as the "Big 3" with lift tickets available as a combined pass for all of them. Each of these resorts will get their own feature write-up in coming days.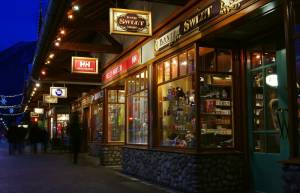 The backdrop for this valley is ridiculously stunning just like it is in the rest of the Canadian Rockies. In Banff it prompted me to take a half day off the slopes and to try out something other than skiing, something that I had been interested in for a while but never seemed to find the time to do: snowshoeing.
There are a couple of different types of snowshoeing. In one case it's more like following around cross country trails that are well marked and packed. On this trip we snowshoed on a deep and fresh snow pack on larger snowshoes. My traveling mate from the Frommers series of travel guide books and I met up with Gordon Stermann, the owner of White Mountain Adventures, and drove for a bit to Vermillion Pass on the Continental Divide, which also makes up the border between Alberta and British Columbia.
We ventured uphill and into the woods along what would be a gentle pitch if it were summer on bare ground. Soon, however, we found ourselves getting quite warm and finding it counterintuitive to place the snowshoe for descending short downhill sections. The instinct is to lean back, but the small "claw" or crampon on the snowshoe is at the front of your foot. So plant firmly and anticipate a little bit of sliding. It also helps to be on fresh snow, not walking where the first person has already partially packed the snow.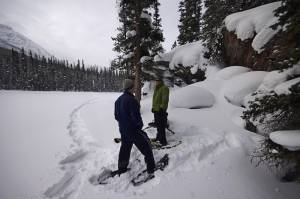 With a moderate pace we walked to, and then across a small frozen lake before stopping for a quick hot chocolate break. The solitude was stark. Being out in the mountains the winter is far less crowded than when hiking in the summer. Our guide said that while this area is used by his company at times, it had been a week or more since the last group was here. There were no indications of them, new snow having long since filled in their tracks.
With the skies mostly overcast, and seemingly a threat of snow that never actually came, we didn't see much in the way of wildlife as we had hoped. We instead reveled in the quiet solitude, checking out the landscape and mountains around us as we walked through the trees. Hiking back to the trailhead across a series of frozen ponds is a striking way to spend time in this part of the Rockies.
For More Information: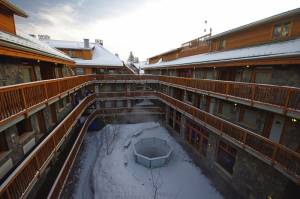 Where to Stay in Banff: Fox Hotel and Suites, with its well-appointed rooms and tons of on-site amenities including laundry machines, which are a great help on a long trip. A Chili's restaurant is situated inside the main building and there's a don't-miss-it, absolutely unique "cave" styled hot tub room with a series of pools and an open air skylight that pokes out into the courtyard above. The only irony was that despite the great digs, there is so much to do in Banff and the area that in the three nights I spent here most of my time was enjoyed out around town or outdoors.
Where to Eat: Melissa's Missteak for an excellent steak dinner.
Fox Hotel and Suites – www.bestofbanff.com/fox-hotel-suites; Telephone (800) 563-8764
Melissa's Missteak – www.melssteak.com; Telephone (403) 762-5511
White Mountain Adventures – www.whitemountainadventures.com; Telephone (800) 408-0005
This is the third installment in a week-long series of feature articles on Alberta's major ski resorts. Next up tomorrow: Lake Louise

Previous days:
More Photos:
[nggallery id=15]