Lake Louise (AB), Canada – Vail, Colo.'s Lindsey Vonn completed a historic clean sweep as the World Cup stop in Lake Louise wrapped up on Sunday, topping the Audi FIS Alpine World Cup super G podium with teammate Julia Mancuso finishing third.
The only other women's sweep at Lake Louise was completed by German ski racer Katja Seizinger in 1997. It was the second three-day sweep of Vonn's career after winning a pair of downhills and a super G in Haus im Ennstal, Austria in Jan. 2010.
" To have three wins this weekend is more than I ever could have expected. I'm just so thankful to have the support of my teammates and everyone on the World Cup," said Vonn, who appeared unfazed by a pending divorce from husband Thomas Vonn, who has also been managing her career, first announced last week. "Ski racing is what I love to do. Skiing today and this whole weekend I had a huge smile on my face. We do our best every day and sometimes it works and sometimes it doesn't. Thankfully this weekend everything worked out really well."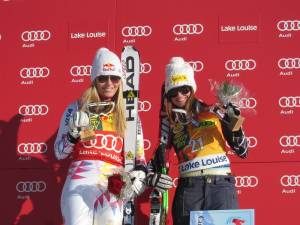 It was Vonn's 45th career World Cup win and 11th in Lake Louise dating back to 2004. Following a season opening giant slalom victory in Soelden, Austria, a pair of downhill victories and Sunday's super G win in Lake Louise, Vonn now has four victories in the five races she's started this season.
It was the second podium finish this season for Mancuso, who was also third in the Nature Valley Aspen Winternational giant slalom last weekend.
"I had a lot of room to improve in my downhill  results, so there was nothing to lose," explained Mancuso, of Squaw Valley, Calif. "I just wasn't feeling very comfortable here. It's sometimes hard to get into the rhythm getting back into the downhill races and trying new equipment and dealing with bad luck conditions I just made some bad decisions and learned the hard way.
"It's nice to have a good result and I can't wait to rip up the Beaver Creek hill."
The women's alpine tour now moves to Beaver Creek, Colo. — site of the 2015 FIS Alpine World Championships — for a super G on Wednesday. It will be the first women's World Cup race to be held in Beaver Creek.
"I'm so excited to go to Beaver Creek. It's going to be such an awesome race to finally be able to race at home, five minutes from where I live and to have the support of my friends and family there," said Vonn. "Hopefully I can take this momentum with me to Beaver Creek and finally get a win in my hometown."
OFFICIAL RESULTS
Audi FIS Alpine Ski World Cup
Lake Louise Winterstart – Lake Louise, AB, Canada
Women's Super G – Dec. 5, 2011
| | | | | | | |
| --- | --- | --- | --- | --- | --- | --- |
| Rank | Bib | Name | Year | Nation | Total Time | FIS Points |
|  1 |  22 | VONN Lindsey | 1984 | USA |  1:20.21 |  0.00 |
|  2 |  19 | FENNINGER Anna | 1989 | AUT |  1:20.40 |  2.51 |
|  3 |  21 | MANCUSO Julia | 1984 | USA |  1:20.92 |  9.38 |
|  4 |  20 | GUT Lara | 1991 | SUI |  1:21.05 |  11.10 |
|  5 |  16 | HOEFL-RIESCH Maria | 1984 | GER |  1:21.10 |  11.76 |
|  6 |  11 | SCHNARF Johanna | 1984 | ITA |  1:21.41 |  15.86 |
|  7 |  10 | LINDELL-VIKARBY Jessica | 1984 | SWE |  1:21.42 |  15.99 |
|  8 |  17 | GOERGL Elisabeth | 1981 | AUT |  1:21.50 |  17.05 |
|  9 |  14 | FISCHBACHER Andrea | 1985 | AUT |  1:21.59 |  18.24 |
|  10 |  4 | FANCHINI Elena | 1985 | ITA |  1:21.71 |  19.82 |