Bellevue, WA – Skiers who are planning a winter getaway on the slopes of Beaver Creek in Colorado had better make sure that their bank accounts are well padded. The adrenaline rush that comes from schussing down Beaver Creek's runs is going to cost them. Indeed, the lodging prices at Beaver Creek are, by far, on average the most expensive of any ski resort in the United States, a recent survey compiled by Cheaphotels.org has revealed.
Just how expensive will a Beaver Creek ski vacation run? On average, travelers to the resort area will have to pay $314 per night for the cheapest available double room. Weekend warriors will find themselves shelling out even more: $382 for a single night's stay.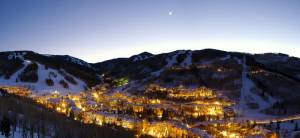 Budget travelers will have to be a little flexible if they want to avail themselves of all that Beaver Creek has to offer, but cost-saving solutions do exist. For example, instead of staying at prime real estate in the Beaver Creek Village, they can opt for a hotel in the town of Avon. Just a 10-minute drive or lift ride to the famed ski resort, they will find rooms here for a nightly rate of less than $150.
Seven of the nation's 10 most expensive ski resorts, according to Cheaphotels.org, are located in Colorado. Vail Mountain, just a stone's throw away from Beaver Creek, ranks fourth on the list with average available room rates coming in at $200. Still, that's 36% cheaper than Beaver Creek.
Meanwhile Aspen, a hot spot for celebrities, is positioned slightly higher at number three. There, rooms are going for an average daily rate of $212 in February.
Following is a list of the 10 most expensive ski resorts in the USA, as compiled by Cheaphotels.org. The rankings are based on the average rate for the cheapest available double room during the month of February 2012.
Beaver Creek (Colorado) $314
Squaw Valley (California) $214
Aspen (Colorado) $212
Vail (Colorado) $200
Snowmass Village (Colorado) $175
Copper Mountain (Colorado) $160
Jackson Hole (Wyoming) $159
Park City (Utah) $153
Telluride (Colorado) $141
Keystone (Colorado) $121