Calgary (AB), Canada – Canada's Mikael Kingsbury and America's Hannah Kearney earned goldmedals in World Cup mogul skiing in Calgary on Saturday. The pair seem unstoppable in making their mark on the FIS World Cup mogul scene this year.
With his performance at the Canada Post Grand Prix at Canada Olympic Park, Quebec's 19-year-old Kingsbury is one gold medal away from tying the FIS World Cup record of six consecutive wins.
Scoring 24.30, Kingsbury took the win in a somewhat anti-climactic super final. Jeremy Cota, of Carrabassett Valley, Maine, was second at 23.94; while the rest of the competition – South Lake Tahoe, Calif.'s Sho Kashima and Sho Endo of Japan fell in the final round, winding up third and fourth, consecutively.
"I'm pretty excited, it was a long day," said a tired Cota. "I qualified for finals in sixth, so tactically made the choice to add a different jump to the top, with a higher degree of difficulty. I was really happy with the way I skied and did a new jump in competition, a back double full."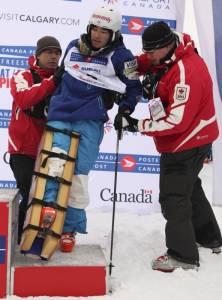 It was the third podium result of the World Cup season for Kashima. Unfortunately he injured his knee on his final round and had to make his way to the podium in a giant leg splint.
Kingsbury said his best run of the day was in the finals; where he pulled a huge double back flip off the top air followed by a cork 720 on the second jump.
"I'm super excited to win five in a row," said the Deux-Montagnes, Quebec native. "And it was a great event, this was the best course I've seen in Calgary."
Asked whether he was feeling pressure to match American Jeremy Bloom's 2005 record of six consecutive wins, Kingsbury replied, "No, I don't feel the pressure. It's been a perfect season for me so far and after such a great start it doesn't matter what happens next."
Besides, he added, "I like the pressure of being the guy to beat."
On the women's side, Vermont's Kearney continued to dominate the field and won today with a score of 24.82 to extend her FIS Freestyle World Cup record streak to 12. Montreal's Justine Dufour-Lapointe earned her fourth-straight silver medal with a score of 23.11 while Kearney's teammate K.C. Oakley, of Piedmont, Calif., was third at 22.06 for her first World Cup podium performance.
"I'm really happy with my skiing today, all three runs were strong and that's the consistency I want," said Kearney. "Skiing one amazing run and two bad runs is not going get you the win in this new format."
The 17-year-old Dufour-Lapointe was bubbling with energy after today's performance., which she characterized as a turning point.
"I'm so happy, seriously I'm more than proud of myself because today I reached another level for my confidence. I worked hard and I think mentally now I am more consistent and have more control. And I'm dealing with my stress better," she said.
"It was great, you never know when it's going to come, but I had an awesome finals run today," said Oakley of her World Cup podium debut. "Also I had the two of the quickest runs of the day, which helped me a lot. This was a steeper longer course and that really fit my skiing."
The World Cup Moguls tour now moves to Deer Valley Resort in Utah for the Feb. 2-4 Visa Freestyle International.
OFFICIAL RESULTS
FIS Freestyle World Cup
Calgary (AB), Canada – Jan. 28, 2012
Moguls
Men:

Women: