La Molina, Spain – Patrizia Kummer of Switzerland, and Austria's Andreas Prommegger have won Saturday's parallel Snowboard World Cup races in La Molina, giving each a comfortable lead in the Parallel World Cup ranking before entering the season's final parallel giant slalom in Valmalenco, Italy this Saturday.
Kummer, the 2009 PGS World Championships Bronze medalist, has accumulated a total of 6,040 points, 860 points ahead of Amelie Kober of Germany. Kober, however, finished Saturday's race in second place and still has a theoretical chance to challenge Kummer in the race for the Crystal Globe. Third place on Saturday went to Swiss rider Julie Zogg, who edged out teammate Fraenzi Maegert-Kohli.
"Before this race, everyone said that the PGS would be my weaker discipline," who recorded her season's fifth World Cup victory but her first ever in PGS on Saturday. "But I was always fast in the training sessions and knew that I could do it. Now, it's even better to win as it's getting essential.
"I never put myself under pressure," she added. "I just said to myself, 'if it happens it happens. If not, not.' However, still everything is possible. So, I'm going to ride the final race and enjoy it."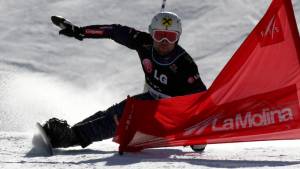 On the men's side, Prommegger, who beat Switzerland's Simon Schoch in Saturday's men's final, is some 620 points ahead of Roland Fischnaller of Italy, who lost the Yellow Leader Bib to Prommegger due to an early out in the first round of the top 16. World Cup title defender and currently third-ranked rider, Benjamin Karl of Austria, crossed the finish line ahead of his fellow countryman Lukas Mathies in the small final to round out the podium but lose his chance to intercede the duel for the 2012 title with a total of 5,480 points.
"The door to the World Cup title is now wide open," said Prommegger, "b ut you don't get any presents in the World Cup. The field is way too strong."
OFFICIAL RESULTS
LG Snowboard FIS World Cup
La Molina, Spain – Mar. 10, 2012
Parallel Giant Slalom
Women:
| | | | | | |
| --- | --- | --- | --- | --- | --- |
| Rank | Bib | Name | Year | Nation | Points |
|  1 |  6 | KUMMER Patrizia | 1987 | SUI |  1000.00 |
|  2 |  11 | KOBER Amelie | 1987 | GER |  800.00 |
|  3 |  16 | ZOGG Julie | 1992 | SUI |  600.00 |
|  4 |  2 | MAEGERT- KOHLI Fraenzi | 1982 | SUI |  500.00 |
|  5 |  8 | KREINER Marion | 1981 | AUT |  450.00 |
|  6 |  5 | RIEGLER Claudia | 1973 | AUT |  400.00 |
|  7 |  14 | TUDEGESHEVA Ekaterina | 1987 | RUS |  360.00 |
|  8 |  7 | KARSTENS Anke | 1985 | GER |  320.00 |
|  9 |  12 | DUJMOVITS Julia | 1987 | AUT |  290.00 |
|  10 |  15 | MESCHIK Ina | 1990 | AUT |  260.00 |
Men:
| | | | | | |
| --- | --- | --- | --- | --- | --- |
| Rank | Bib | Name | Year | Nation | Points |
|  1 |  16 | PROMMEGGER Andreas | 1980 | AUT |  1000.00 |
|  2 |  13 | SCHOCH Simon | 1978 | SUI |  800.00 |
|  3 |  5 | KARL Benjamin | 1985 | AUT |  600.00 |
|  4 |  1 | MATHIES Lukas | 1991 | AUT |  500.00 |
|  5 |  18 | FLUETSCH Kaspar | 1986 | SUI |  450.00 |
|  6 |  30 | LAUSEGGER Andreas | 1985 | AUT |  400.00 |
|  7 |  8 | GRABNER Siegfried | 1975 | AUT |  360.00 |
|  8 |  17 | WALDER Ingemar | 1978 | AUT |  320.00 |
|  9 |  9 | VEITH Manuel | 1985 | AUT |  290.00 |
|  10 |  29 | SHIBA Masaki | 1986 | JPN |  260.00 |