Guelph (ON), Canada – Canadian Alpine Ski Team member, Erin Mielzynski, is being welcomed home to Guelph today with festivities to honor the hometown hero for her historic World Cup win this season.
On March 4 in Ofterschwang, Germany, Mielzynski became the first Canadian to win a World Cup slalom race since Betsy Clifford in 1971. The first-place result was the 21-year-old's first World Cup finish in the top 10. Even though Mielzynski now resides in Collingwood, Ontario, the slalom ace still considers Guelph home.
"Guelph still feels like home to me and that's where my heart is as that's what made the biggest difference for me (in my life)," said Mielzynski. "I moved a lot in my life, but Guelph is the one place that stood out for me."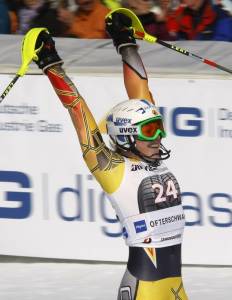 Mielzynski will first pay a special visit to her former high school, Bishop Macdonell Catholic High School, where she will be honored at a school assembly before spending time speaking with smaller groups of faculty, student leaders and athletes.
"It's especially exciting to go back to my high school because everyone did such great things for me there," she said. "I haven't seen the teachers for a while, but they helped me in the process as I was starting up skiing more seriously, and it really helped, all the work they put into my education and my athletic career."
This evening, Guelph mayor Karen Farbridge will make a special presentation to Mielzynski at the start of the Guelph city council meeting at 7 p.m.
"On behalf of everyone in Guelph, I'm thrilled to welcome Erin back to her hometown and to congratulate her on her historic win," Farbridge said. "She is an inspiration to us all."