Park City, UT – The U.S. Ski and Snowboard Association (USSA) has added veteran coach Thomas Erhard to its alpine coaching staff.
Erhard, whose extensive career includes elite alpine coaching at every level including USSA clubs, the U.S. Ski Team and international programs, was recently on snow at Mt. Hood, Ore. working with the U.S. Development Team and national club programs. His new role will focus on creating high level training possibilities for the nation's top athletes in the under 18 and under 16 age groups. The program will complement and serve as a resource for the nation's top club programs.
"Thomas has already established himself as one of the top coaches in the country," confirmed Patrick Riml, U.S. Ski Team Alpine Director. "He has coached on every level, from club to World Cup, and understands what it takes for a young athlete to make the right strides toward international success."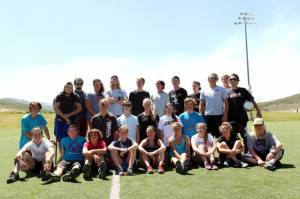 Some of the athletes in Erhard's group will be students at the newly formed USSA TEAM Academy located at the Center of Excellence in Park City. The academy offers an educational and athletic model for high school-aged elite student athletes by pairing traditional classroom education in the Center of Excellence with innovative technology-driven learning.
"He will work with both athletes in the USSA TEAM Academy and the top club athletes in the country on a project basis. This is about creating opportunities for the top young athletes across the country to train together at a very high level," explained Riml, who added, "Success comes from creating competitive environments with a high level of coaching leadership."
"We have such an amazing base of elite coaching in our club programs, but what we've noticed is a drop off with those athletes between club programs and the Development Team level," said Erhard. "These new training possibilities will serve as a complement to the clubs in order to boost our young athletes' international performance at a younger age. Essentially, we want to raise our own bar.
"I began my career with Burke Mountain Academy (in Vermont) by learning to love coaching through the value that a solid mentor can provide a young person, both educationally and athletically," Erhard explained. "To see a young athlete develop a positive direction in life is one of the most real things anyone can be a part of. The current U.S. Ski Team staff whole heartedly believes in that. I'm proud to be a part of that shared vision."