Denver, CO – According to the most recent monthly reservation report about trends in mountain travel bookings by the Mountain Travel Research Program (MTRiP), as of Sept. 30, year-over-year booked occupancy is up 0.5 percent for the next six months (October-March) compared to the same time last year. The booking pace in September for the next six months was down 3.9 percent overall but with considerable fluctuation between the months with reservations taken during September for arrival in October, November, and February posting gains while December, January, and March were down.
"It seems that both prospective guests and the resort suppliers are having reservations about booking reservations for the coming season," quipped Ralf Garrison, director of MTRiP, about his organization's survey of approximately 260 property management companies in 16 mountain destination communities, representing 24,000 rooms across Colorado, Utah, California and Oregon.  "We anticipated that the positive economic news in September combined with a strong uptick in consumer confidence would be driving winter booking activity but overall advanced reservation activity is essentially flat."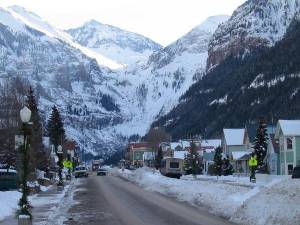 Garrison also speculated that last year's disappointing snowfall in most of the country is contributing to a snow "hangover" and the reluctance of skiers and boarders to book mountain vacations until winter weather trends become more apparent.  "However, taking the optimistic view, it's still pretty early in the booking season with approximately 40 percent of the ski season's reservations now on the books there is lots of upside potential," he noted.
Other data in the report revealed that actual occupancy for the month of September finished up 3.2 percent compared to last year and that the month of October is performing unusually well with booked occupancy as of Sept. 30 up 16.9 percent with the Average Daily Rate up 4.6 percent compared to last October.
Other economic trends covered in the report were primarily positive. The gaining indicators as of Sept. 30 included the Dow Jones Industrial Average (DJIA) finishing up 2.65 percent for the month; a sharp increase in the Consumer Confidence Index of 14.7 percent to 70.3 points and its highest level since February 2011; and a decline in the Unemployment Rate to 7.8 percent, the first time since January 2009 the rate has dropped below eight percent. The most negative indicators cited were the third consecutive month of increases in crude oil prices that impacts the price of fuel at the pump and many consumer goods.  The 0.6 percent increase in the Consumer Price Index—the first increase since last April and the fifth increase in the past year was also cited as a concern signaling that inflation may be increasing.
"Consumer spending has slowed down lately, despite improving markets and stronger confidence because consumers, for the most part, have very little extra money to spend," explained Tom Foley, operations director for MTRiP.  "Consumers have been paying higher prices for many products as a result of the increased cost of goods driven largely by fuel costs. That means less disposable income and stagnant demand as consumers focus on necessary purchases," he added.
"Weather, economic trends, and political events will all have an influence on this year's results so we are advising our lodging properties to stick to their current plans but be ready to react quickly if any of these influences start shifting the vacation and travel plans of skiers and snowboarders," concluded Garrison.