Aspen, CO – U.S. Ski Team rising star Mikaela Shiffrin scored the seventh top 10 result of her short World Cup career with a strong second run in the Nature Valley Aspen Winternational slalom on Sunday, finshing seventh. Austria's Kathrin Zettel took her first World Cup win in nearly three years ahead of teammate Marlies Schild, while Saturday's giant slalom winner in Aspen, Tina Maze of Slovenia, rounded out the podium with third.
"I am quite happy about this eighth podium in Aspen," said Zettel.  "I love this little city and the people here."
Shiffrin's finish, which resulted from the fifth fastest second run of the day after sitting in 10th place after the first run, left the 17-year-old from Eagle, Colo., in fifth in the Audi FIS Alpine World Cup overall and slalom standings.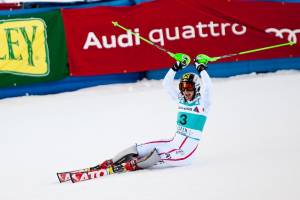 "I had a great weekend. I had so much fun here. It was a beautiful, awesome slope," said Shiffrin. "It was challenging, because I'm just trying to establish myself as a competitive racer with all these other guys. All in all, I'm psyched to be home. I love racing this hill. It's been great.
"There was a lot of pressure. I just didn't feel it. The pressure I put on myself is much higher than anybody else's. I tend to just ignore the pressure. I don't have expectations. I'm just trying to ski as fast as I can, and that it's fun and everything is good."
Jackson, Wyo.'s Resi Stiegler returned to the World Cup at Sunday's race after going out with a season-ending injury last year. She failed to qualify for a second run after finishing outside the top 30.
American ski racer Lindsey Vonn had already decided to skip Sunday's slalom in favor of training for the three speed races in Lake Louise, Alberta, Canada next weekend and to recover from a recent bout of intestinal pain that left the World Cup superstar hospitalized earlier this month. Julia Ford likewise did not start, while World Cup newcomer Paula Moltzan did not finish her first run.
Quebec's Marie-Michele Gagnon had the top Canadian result in Sunday's slalom at 18th, followed closely by teammate Brittany Phelan of Mont-Tremblant, Quebec, with a career best 21st.
"No complaints here," said Phelan. "My first run was pretty good. I watched a lot of (the other racers) from the top of the hill and I decided to go for it and lay it all on the line. There were a couple of mistakes towards the end but I was pleasantly surprised to be 15th after the first run.
"Going into the second run I wasn't too nervous and I just wanted to have a more solid run. I made a couple of mistakes but all in all I'm pretty happy with it."
Other Canadian racers included Eve Routhier and Elli Terwiel, neither of whom qualified for a second run, and Ontarian Erin Mielzynski, who failed to finish her first run.
OFFICIAL RESULTS
Audi FIS Alpine World Cup
Aspen Winternational – Aspen, CO – Nov. 25, 2012
Women's Slalom
| | | | | | | | | |
| --- | --- | --- | --- | --- | --- | --- | --- | --- |
| Rank | Bib | Name | Year | Nation | Run 1 | Run 2 | Total Time | FIS Points |
|  1 |  3 | ZETTEL Kathrin | 1986 | AUT |  52.74 |  49.72 |  1:42.46 |  0.00 |
|  2 |  5 | SCHILD Marlies | 1981 | AUT |  53.04 |  50.09 |  1:43.13 |  4.05 |
|  3 |  1 | MAZE Tina | 1983 | SLO |  52.99 |  51.28 |  1:44.27 |  10.95 |
|  4 |  7 | HOEFL-RIESCH Maria | 1984 | GER |  53.57 |  50.82 |  1:44.39 |  11.68 |
|  5 |  8 | PIETILAE-HOLMNER Maria | 1986 | SWE |  53.55 |  51.06 |  1:44.61 |  13.01 |
|  6 |  11 | DUERR Lena | 1991 | GER |  54.12 |  51.21 |  1:45.33 |  17.37 |
|  7 |  13 | SHIFFRIN Mikaela | 1995 | USA |  54.72 |  50.80 |  1:45.52 |  18.52 |
|  8 |  4 | POUTIAINEN Tanja | 1980 | FIN |  54.25 |  51.33 |  1:45.58 |  18.88 |
|  8 |  2 | KIRCHGASSER Michaela | 1985 | AUT |  54.45 |  51.13 |  1:45.58 |  18.88 |
|  10 |  9 | GEIGER Christina | 1990 | GER |  54.33 |  51.34 |  1:45.67 |  19.42 |