Mammoth Lakes, CA – The moist Pacific storm that has saturated much of the Tahoe area, dropping snow on upper elevations but also rain at lower elevations has been much kinder to Mammoth Mountain.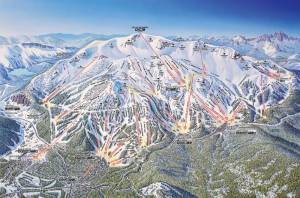 At Mammoth, where the base elevation is nearly 8,000 feet, resort officials are reporting four to six feet of new snow from the storm and 12 to 15 inches in the past 24 hours, throwing the Sierra resort into full operation by this Friday.
All 28 lifts,  Canyon and Eagle Lodges, and all 3,500 acres of terrain will be open at Mammoth by this Friday, December 7, resort officials indicate. As an added incentive to head up to the Eastern Sierra, Mammoth Mountain is offering $82 lift tickets with a My Mammoth CARD advance purchase through December 21.
Warm air has accompanied this Pineapple Express flow of moisture off the Pacific, however, and California ski areas at lower elevation have been far less fortunate than Mammoth. In fact, all ski areas surrounding Lake Tahoe have suffered the effects of the storm upon their lower slopes. At Squaw Valley, for example, base depths range from four feet of snow on the upper mountain to four inches at the bottom. And Sugar Bowl, which at first announced that it would close for the day this past Saturday due to the weather, has since announced that the ski resort near Donner Summit will remain closed through this Saturday, Dec. 8.
"Recent storms have delivered more than 30 inches of new snow at the top of Sugar Bowl Resort, yet mixed precipitation, fluctuating snow levels and a somewhat saturated snowpack at the base have presented numerous challenges," Sugar Bowl's John Monson acknowledged over the weekend.