Breckenridge, CO – Disabled Sports USA (DSUSA) is hosting the 25th annual The Hartford Ski Spectacular, currently underway at Beaver Run Resort and Breckenridge Ski Resort in Colorado. The eight-day event is the nation's largest winter sports festival for individuals with physical disabilities. More than 800 participants, ranging in ability from first-time skiers to members of the U.S. Paralympics Alpine Skiing National Team, have come together in Breckenridge, including more than 160 wounded warriors and their families.
The Hartford Ski Spectacular strengthens and expands adaptive snow sports programs in communities throughout the U.S.; identifies and train youth, wounded warriors, and others with disabilities including those who strive to be winter Paralympians; and helps local DSUSA chapters improve their services. A week of ski and snowboard race training, sponsored by U.S. Paralympics, prepares athletes for national and international competitions, including the 2014 Paralympic Winter Games in Sochi, Russia.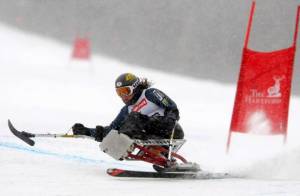 "The Hartford is proud to sponsor this incredibly impactful program for the 19th consecutive year," says Mike Concannon, executive vice president of The Hartford Group Benefits. "Through our partnerships with DSUSA and U.S. Paralympics, we seek to increase awareness about the achievement that's possible when you focus on ability. We hope all who hit the slopes at The Hartford Ski Spectacular will be inspired as much as they inspire us. They help us see that people with disabilities can do anything."
The ski instructor academy endorsed by Professional Ski Instructors of America – American Association of Snowboard Instructors (PSIA-AASI) is offering training for instructors in the latest and safest adaptive ski techniques for skiers with disabilities. "Learn to" programs in alpine and Nordic skiing, biathlon, sled hockey, curling and snowboarding are also being offered.
"The Hartford Ski Spectacular continues to be an amazing event," said Charlie Huebner, chief of Paralympics, United States Olympic Committee. "It's about so much more than skiing. The relationships, mentors and exposure to sports for people with physical disabilities are life-changing. DSUSA is making an impact in the lives of people with disabilities both on the mountain in Breckenridge, and in communities across the country through its local chapters."