Krasnaya Polyana, Russia – Park City, Utah's Sarah Hendrickson hopes that she foreshadowed the future on Saturday by winning the first FIS Ski Jumping World Cup on the Russki Gorki Olympic jump in Krasnaya Polyana outside Sochi.
"The head of Sochi's 2014 Organizing Committee shook my hand and said, 'Hopefully I will be shaking your hand again at the Winter Games.' He said that to everybody on the podium, but it was bone chilling to think that we are that close to getting to compete in the Olympic Games for the first time in history," Hendrickson said. "It was awesome."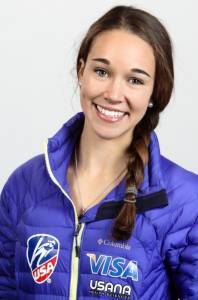 The first round leader, Hendrickson's 103.0-meter second ride was a meter shorter than Japan's Sara Takanashi, but the American outpointed her on style to take the win 264.2 to 258.0. It was the first World Cup competition held on the Olympic jumps.
It was the 18-year-old Hendrickson's first win of the season after she finished second to Takanashi two weeks ago in Lillehammer, Norway. Following Saturday's competition Hendrickson was tied with Takanashi for the World Cup lead after the two events.
Women ski jumpers will make their Olympic debut in Sochi in 2014.
U.S. teammates Abby Hughes jumped to a strong 23rd; Jessica Jerome had a technical error on the first jump and finished 35th; Lindsey Van had a strong first jump, but lost her balance and fell in the outrun, finishing 42nd. She was uninjured. All are from Park City.
OFFICIAL RESULTS
FIS Ski Jumping World Cup
Krasnaya Polyana, Russia – Dec. 8, 2012
Women's HS106
| | | | | | | | |
| --- | --- | --- | --- | --- | --- | --- | --- |
| Rank | Bib | Name | Year | Nation | Jump 1 | Jump 2 | Points |
|  1 |  45 | HENDRICKSON Sarah | 1994 | USA |  103.5 |  103.0 |  264.2 |
|  2 |  46 | TAKANASHI Sara | 1996 | JPN |  106.0 |  104.0 |  258.0 |
|  3 |  44 | SAGEN Anette | 1985 | NOR |  101.5 |  98.0 |  245.1 |
|  4 |  41 | IRASCHKO Daniela | 1983 | AUT |  103.5 |  95.0 |  242.1 |
|  4 |  40 | MATTEL Coline | 1995 | FRA |  102.0 |  97.5 |  242.1 |
|  6 |  42 | INSAM Evelyn | 1994 | ITA |  100.0 |  96.5 |  239.1 |
|  7 |  38 | SEIFRIEDSBERGER Jacqueline | 1991 | AUT |  102.5 |  103.5 |  237.6 |
|  8 |  43 | VOGT Carina | 1992 | GER |  97.5 |  101.5 |  231.6 |
|  9 |  37 | POZUN Katja | 1993 | SLO |  100.5 |  96.5 |  225.7 |
|  10 |  35 | WUERTH Svenja | 1993 | GER |  99.0 |  95.0 |  220.4 |