Santa Monica, CA – The upcoming release of the feature-length documentary film, "McConkey," was announced on Monday by its distributor, Red Bull Media House, which co-produced the film with ski filmmaker Matchstick Productions. "McConkey" will go on the road this fall with one-night screenings in over 20 locations including the film tour premiere in Shane McConkey's hometown of Squaw Valley, Calif. on October 5, for which tickets are now on sale at www.mcconkeymovie.com.
The film will also open theatrically in Los Angeles and New York on October 11. In Los Angeles, the film will open at the Regent Theatre in Brentwood. In New York, the film will open at the Village East Cinema.
"Red Bull Media House is proud to release a film about Shane McConkey," commented Werner Brell, Managing Director of Red Bull Media House North America. "We want the world to know who Shane was and how he lived his life to the fullest. The motivation for this multi-platform distribution approach is to give back to the family and inspire a broad audience. Proceeds from the film will go to a trust set up in the family's name."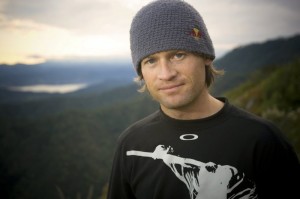 Directed by Murray Wais, Steve Winter, Scott Gaffney, David Zieff and Rob Bruce, "McConkey" celebrates the life of one of the world's most innovative freeskiers. Featuring action footage and McConkey's own home videos, the film offers a rare look at his most intense risks as well as an intimate portrait of his personal life.
Born in Vancouver, British Columbia, Canada, and based in Squaw Valley, Calif., McConkey won numerous awards and competitions throughout his illustrious career. McConkey started as a competitive ski racer after graduating from Vermont's Burke Mountain Academy program, but moved on to be featured in a long line of extreme skiing movies. McConkey was best known for combining BASE jumping with skiing, as seen in such feats as skiing into a BASE jump off the Eiger in Switzerland. He was also known for his contributions to ski design, notably being the father of reverse sidecut and reverse camber skis, leading to the advent of today's rocker designs. McConkey's contributions are directly responsible for the Volant Spatula and K2 Pontoon, among others. On April 2, 2011 Shane McConkey was inducted into the U.S. Ski and Snowboard Hall of fame along with other Tahoe skiers, Daron Rahlves and Glen Plake.
"Shane was a legend and thankfully an unstoppable force of creativity, energy and vision – we're so proud that he called Squaw Valley home," said Andy Wirth, President and CEO of Squaw Valley and Alpine Meadows. "It's that fact, and so much more, which makes us so very proud to host the tour premiere of this incredible film at our mountain and at the base of KT-22, in the shadow of the Eagle's Nest summit known as 'McConkey's.'"
Available for retail sale on October 8, "McConkey" will be released for digital download and rental through iTunes and other digital retailers including Google Play, XBox, Playstation, and Vudu. A three-in-one collector's edition will be released October 8 on DVD/Blu Ray through the film website and at retail locations. Fans will also be able to rent the film this fall through major cable, telco, and satellite providers nationwide. "McConkey" will continue to release on additional platforms and channels in 2014.
Internationally, the film will have its European premiere at the San Sebastián Film Festival in Spain in late September followed by country-specific screenings throughout Europe. On October 3, "McConkey" will be the main feature at "Heroes By Nature," a new cinema showcase of action sports and adventure movies that engage audiences with live access to athletes and filmmakers on a monthly basis.
"McConkey" is the latest of eight films released in the last two years by Red Bull Media House and follows the media company's most successful release to date, "The Art of Flight," which is the most viewed and commercially successful snowboard film in history.
McConkey Movie Tour 2013(North America)
Oct. 5 – Squaw Valley, CA – KT Base Bar (outdoor venue)
Oct. 7 – Portland, OR – Newmark Theatre
Oct. 8 – Seattle, WA –  McCaw Hall
Oct. 11 – Park City, UT – Jim Santy Auditorium
Oct. 11–16 – Los Angeles, CA – The Regent Theatre
Oct. 11–17 – New York, NY – Village East Cinema
Oct. 14 – San Francisco, CA – Palace of Fine Arts Theatre
Oct. 16 – Jackson, WY – Center for the Arts
Oct. 18  – Crested Butte, CO – Center for the Arts
Oct. 20 – Boulder, CO – Boulder Theater
TBD – Denver, CO – TBD
Oct. 24  – Boise, ID – Egyptian Theatre
Oct. 26 – Missoula, MT – Wilma Theatre
Oct. 29 – Vancouver, BC, Canada – Centennial Theatre
Oct. 30 – Whistler, BC, Canada – Millennium Place
Nov. 2 – Snowbird, UT – The Cliff Lodge
Nov. 8 – Minneapolis, MN – Pantages Theatre
Nov. 12  – Boston, MA – John Hancock Hall
Nov. 14 – Burlington, VT – Higher Ground
Nov. 15 – Portsmouth, NH – The Music Hall
Nov. 19 – Asheville, NC – Diana Wortham Theatre