Newry, ME – For those skiers and snowboarders who like to venture off trail and into the woods, drop into a superpipe, hit some rails or even jumps, Maine's Sunday River Resort has announced the addition of T72, a 15-acre terrain park trail, and five new gladed areas for the 2013-14 winter season.
This new terrain adds up to 75 acres, resulting in a 10 percent increase in skiable terrain to a new total of 820 acres at the resort. These additions make Sunday River the second largest resort in New England behind its sister ski area in Maine, Sugarloaf (1,056 acres), also operated by Boyne Resorts.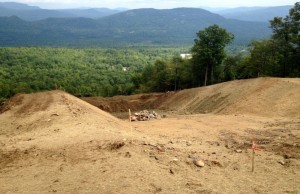 Located on North Peak between Sunday River's 3D and Dream Maker trails, T72 is a new 15-acre terrain park trail designed with the help of Snow Park Technologies and Olympic hopeful, Simon Dumont.  T72 will include a jump line, rail features, and superpipe, and is serviced by two lifts.
Hardball, a double black diamond glade on Sunday River's White Cap peak, located between the Shockwave and White Heat trails, will grow this winter from 3.2 acres to 13.4 acres thanks to extensive tree work. Another double black diamond glade on White Cap, Chutzpah follows Hardball's lead and grows from 5.7 acres to 29.4 acres. In addition to increased elbow room, skiers and snowboarders will also enjoy a second entrance to Chutzpah off of the Obsession trail. Found between Sunday River's 3D and North Exposure trails, North Woods is another new double black diamond glade that will extend for a total of 6.1 acres.
For any skier or snowboarder who has ever eyed the Aurora liftline from the Aurora Peak Quad, it's now 4.2 acres of gladed double black diamond terrain thanks to a new entry off of the Airglow trail and exit into the Celestial glade.    For another new adventure, follow the Kansas trail (Sunday River's version of the Yellow Brick Road) past the Emerald City trail and drop into Poppy Fields, a new 15.8-acre double black diamond glade which will "pop" skiers and snowboarders back out onto the Cyclone trail.
All of Sunday River's new runs are expected to be completed and ready for snow by the time the resort opens for the season, tentatively scheduled for sometime in November, although the Maine resort is famous for firing up its snow guns as soon as temperatures permit.