Park City, UT – The Riders Artists Musicians Project (RAMP) is partnering with the Yeti Collective—a group of talented artists and riders—to build a 25-foot yeti sculpture made out of scrap ski and snowboard byproduct from the company's snowsports gear factory in Park City. The yeti will be a permanent installation at RAMP, and likely the latest tourist attraction in the Park City area.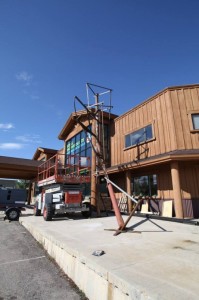 RAMP President Mike Kilchenstein conceived the project. His goal was to reuse the spear-shaped byproduct cut off of the ski/board during the finishing process. Instead of shipping the pieces out of state to recycle, it became an opportunity to bring the community together in a positive way by highlighting creative ways to reuse using the local craftsmen of Park City.
"One of our dreams since we opened our U.S. factory has been to find a way to reuse scrap material instead of throwing it away," said Kilchenstein. "It always bothered me that factories in general are so wasteful. We found a really creative way to reuse this material and can't wait to see this huge sculpture get built right on our doorstep."
Artists Daniel Bell, Jeremy Thomley, and Micah Goddard, who are part of the art group, the Yeti Collective, are spending September creating the yeti installation.
In conjunction with the yeti project, RAMP will be hosting a public art show on Saturday, November 2, to showcase 15 local artists' paintings, sculptures, and more, using RAMP's scrap FSC-certified bamboo core among other material from the factory. The show will include live music from RAMP's music partners, appetizers, and beer and wine. Eighty percent of the art sales from that night go directly back to the artists and 20% to two local nonprofits, the Park City Professional Artists Association and the Summit Land Conservancy. Thomley is also making a massive firebox made out of steel to be lit up at the show — a perfect way to kick off the winter season.
"This is a celebration of art and community," said RAMP Communications Director Vanessa Pierce. "We couldn't be happier bringing these artists together for a common purpose—to share art and bring awareness to green practices and sustainability."