Park City, UT – World Champions Kikkan Randall and Jessie Diggins highlight a team of 11 athletes named on Monday to the U.S. Cross Country Ski Team for the 2013-14 season.
The team was announced at the conclusion of a final two-week training camp at the USSA Center of Excellence in Park City and the newly-repaved roller ski track on the Olympic trails at nearby Soldier Hollow.
Diggins and Randall teamed up to win the World Championship team sprint. Randall won her second straight FIS Cross Country World Cup sprint title and was third overall – both first for a U.S. woman.
"The U.S. Cross Country Ski Team has never seen so much momentum!" said Randall, of Anchorage, Alaska. "This has been an incredibly productive summer of training, the whole team is looking fit and healthy, and we can't wait to kick off the 2014 season in a few weeks."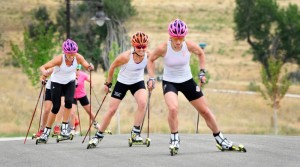 Also returning to the A Team are veteran sprinter Andy Newell, of Shaftsbury, Vt., who was fifth in World Cup sprint standings last year, and Montpelier, Vt.'s Liz Stephen, who was top five in last year's World Championships. Moving up to the A Team are Holly Brooks of Anchorage, and Orleans, Vt.'s Ida Sargent. Both had strong World Cup performances last season.
"The 2013-14 U.S Cross Country Ski Team will be the strongest team that the USA has fielded in 30 plus years," commented head coach Chris Grover. "Led by World Champion and two-time overall sprint champion Kikkan Randall, this team is redefining the limits of success in U.S. cross-country skiing. Although the team will be focused on peak performances in Sochi, we expect to be fighting for podiums each and every weekend throughout the World Cup season."
The World Cup season opens Nov. 29 in Kuusamo, Finland. The 2014 Sochi Olympic Team will be selected primarily from World Cup events this season and will be named in late January. The U.S. Cross Country Ski Team will send another squad to the Tour de Ski stage race, Dec. 28-Jan. 5 at sites across Germany, Switzerland and Italy.
2014 U.S. Cross Country Ski Team Roster
Name, Hometown, Club (Skis, Boots, Bindings, Poles, Eyewear), Date of Birth
* Denotes past Olympian
A Team
Holly Brooks, Anchorage, Alaska Pacific University Nordic Ski Center (Salomon, Salomon, Salomon, Swix, Rudy Project) 4/17/82 *
Jessie Diggins, Afton, MN, Stratton T2 (Salomon, Salomon, Salomon, One Way, Rudy Project) 8/26/1991
Andy Newell, Shaftsbury, VT, Stratton T2 (Fischer, Salomon, Salomon, Swix, Rudy Project) 11/30/1983 *
Kikkan Randall, Anchorage, Alaska Pacific University Nordic Ski Center (Fischer, Salomon, Salomon, Swix, Rudy Project) 12/31/1982 *
Ida Sargent, Orleans, VT, Craftsbury Green Team (Fischer, Alpine, Rotefella, Swix, Rudy Project) 1/25/1988
Liz Stephen, East Montpelier, VT, Burke Mountain Academy (Rossignol, Rossignol, Rossignol, One Way, Rudy Project) 1/12/1987 *
B Team
Sadie Bjornsen, Winthrop, WA, Alaska Pacific University Nordic Ski Center (Fischer, Salomon, Salomon, Swix, Rudy Project) 11/21/1989
Erik Bjornsen, Winthrop, WA, Alaska Pacific University Nordic Ski Center (Fischer, Fischer, Fischer, Swix, Rudy Project) 7/14/1991
Sophie Caldwell, Peru, VT, Stratton T2 (Fischer, Salomon, Salomon, Swix, Rudy Project) 3/22/90
Simi Hamilton, Aspen, CO, Stratton T2 (Fischer, Alpina, Rotefella, Swix, Rudy Project) 5/14/1987 *
Noah Hoffman, Aspen, CO, Ski and Snowboard Club Vail (Madshus, Madshus, Rotefella, Madshus, Oakley) 8/1/1989
Coaching Staff
Chris Grover, Head Coach, Head Men's Coach
Matt Whitcomb, Head Women's Coach
Jason Cork, Assistant Coach
Bryan Fish, Development Coach
World Cup Service Team
Peter Johansson, Head of Service
Randy Gibbs, Head of Glide
Oleg Ragilo, Head of Kick
Cory Wubbels, World Cup Service