Revelstoke (BC), Canada – Organizers of the Swatch Freeride World Tour by The North Face (FWT) have rescheduled the first stop of the 2014 competition calendar in Revelstoke.
The Revelstoke stop, which was originally scheduled for December 18, has now been moved to March 10, 2014 because the competition venue known as "Mac Daddy" face, located outside of the Revelstoke Mountain Resort boundary, does not yet have safe conditions to host the event.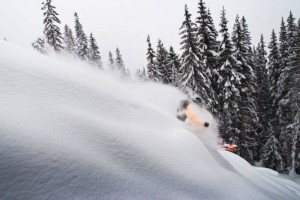 "FWT was excited by the opportunity to start our season with a December event when the enthusiasm for winter is rising. We also recognized the timing was subject to variables associated with early season conditions," said Adam Comey, FWT Americas general manager. "First and foremost, FWT is committed to providing a safe and quality environment for our athletes. The new dates in March offer great benefits for the competition moving forward. Revelstoke continues to be one of the most favorite stops of fans and athletes alike, and we look forward to returning in March."
"Revelstoke Mountain Resort has phenomenal early season conditions, the best we've seen since the resort first opened in 2007," said Ashley Tait, director of sales and marketing at RMR. "However, the FWT venue is outside the resort boundary in backcountry terrain, on a spectacular north-facing slope that must be skied only in optimal conditions. Currently, the avalanche rating is listed as 'considerable' for this area. To ensure we are providing a safe venue for competitors and staff, more time is needed to allow the snowpack to settle out and mature, along with ideal weather conditions. In the meantime, come enjoy the incredible skiing and riding our resort has to offer-now or during the FWT in March."
The 2014 Freeride World Tour season will now open on Jan. 18 in Courmayeur Mont Blanc, Italy with men's ski and snowboard competition. The Freeride World Tour will then continue with both men's and women's ski and snowboard competition at Chamonix-Mont-Blanc, France (Jan. 25), Fieberbrunn Kitzbüheler Alpen, Austria (Feb. 1), Kirkwood, Calif. (March 1), Revelstoke, Canada (March 10) and the Swatch Xtreme Verbier by The North Face in Switzerland (March 22).