Mammoth Lakes, CA – The U.S. Ski and Snowboard Association has now confirmed the addition of new Olympic snowboarding qualifiers to replace the canceled events from last weekend.
The International Ski Federation on Tuesday stated that an appeal to the decision to cancel the snowboarding halfpipe and slopestyle competitions due to snow and low visibility at Breckenridge on Saturday had been denied, indicating that the FIS jury acted exactly per the rules. The canceled competitions were the third of five Olympic qualifiers.
"The appeals process is vital to fair conduct of competitions. In this case, as we had expected, FIS ruled that the jury did, indeed, act in complete accordance with the rules," said Calum Clark, USSA Vice President, Events. "We are fortunate to have such a strong, committed host resort as Mammoth Mountain that will be able to undertake the organization of extra events at short notice."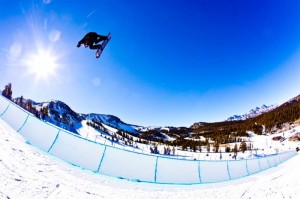 That decision paved the way for the addition of U.S.-only replacement events Thursday and Friday as a part of the Sprint U.S. Grand Prix at Mammoth Mountain, a plan that has approval of the U.S. Olympic Committee. Various options were considered by the USSA and it was determined that the most fair way to conduct Olympic qualification in slopestyle and halfpipe was to replace the events and stay at five qualifiers.
"Maintaining the integrity of the Olympic qualifying system is paramount to the U.S. Snowboarding. We looked at multiple options, including the possibility of just going with four events, but knew that the most consistent way to fairly select the best Olympic team was sticking with the plan and running replacement events," said Jeremy Forster, USSA Director of Freeskiing and Snowboarding.
The new third qualifiers are open to any U.S. athletes who were eligible to compete at Breckenridge. The field for the fourth and fifth qualifiers would remain as planned with only the top athletes in the rankings after three events.
REVISED SCHEDULE
Sprint U.S. Grand Prix, Mammoth Mountain (all times local, PST)
Thursday, Jan. 16
9:30-11:00 a.m. – Slopestyle Final – U.S. Olympic qualification #3
1:30-3:00 p.m. – Slopestyle Final – U.S. Olympic qualification #4
Friday, Jan. 17
9:30-10:45 a.m. – Halfpipe Final – U.S. Olympic qualification #3
12:10-2:30 p.m. – Halfpipe Final – U.S. Olympic qualification #4
Saturday, Jan. 18
11:00 a.m.-1:00 p.m. – Slopestyle Final – U.S. Olympic qualification #5
Sunday, Jan. 19
11:40 a.m.-2:00 p.m. – Halfpipe Final – U.S. Olympic qualification #5
Announcement of team nominations to follow