Rosa Khutor, Russia – It was an all North American podium in Russia on Tuesday as Canadian and American women nabbed all three medals in the first ever Olympic women's ski slopestyle.
Canadian Dara Howell, of Huntsville, Ontario, took the gold with an impressive score of 94.2 in her first run to win by more than nine points, with teammate Kim Lamarre, of Quebec City, taking bronze. In between, Vermont's Devin Logan took the silver.
"Dara had the sickest run of the day. I'm so happy she was the one to beat me," said Logan, of the southern Vermont community of West Dover, home to Mount Snow Resort. "I was up on the podium with my friends, and I couldn't have asked for a better day. She killed it and we both deserve it."
"It's amazing to come down and be proud of myself," Howell said. "Just to hear the crowd go wild was truly a moment that I never will forget. This is the best moment in my entire life. I don't think it will hit me until later. It is truly amazing. There is a number of really good girls out there and I came out on top."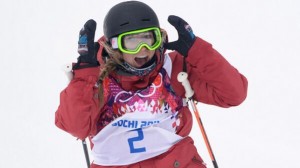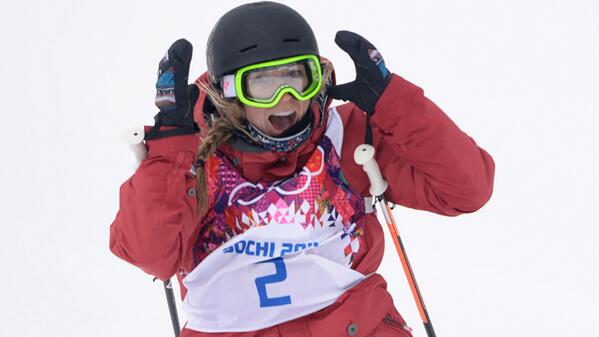 Spring-like temperatures at the Rosa Khutor Extreme Park created slushy snow that slowed down skiers between the features, bringing added difficulty for all athletes.
Logan shot into second with a solid first run (disaster to frontside 270 on the down-flat-down, switch on the up-flat, lip on switch off on the down rail, switch on shifty out of the flat box, rightside 540 Japan, switch leftside 540 safety and stomping a huge cork 720 tail), posting a score of 85.4, which stood through her second run.
"I was really happy with my run and couldn't have asked for anything better," Logan said. "I skied one of my best days today even with everything: the conditions, the slushiness, seeing a lot of girls go down. I put it down and wouldn't take it back. I felt great."
Logan did her best to calm nerves borne of competing in the first-ever Olympic ski slopestyle.
"I don't like to get nervous. I just like to have fun so I started dancing up there," she explained. "I was rapping a little bit and just taking it like any other day. I was in the springtime with my friends having fun and just wanted to put down a run. I did that and I couldn't ask for anything better."
Lamarre's performance was extraordinary as she only recently returned to competition after missing almost two years due to knee injuries. "To actually make it to the Olympics was kind of an exclamation point to my return," she said, "but now getting the medal it just makes this magical story even better. I can't believe it."
All three American athletes entered in Tuesday's medal competition advanced to the final round, where Keri Herman of Bloomington, Minn., finished 10th and Hanover, N.H.'s Julia Krass 11th. Fifteen-year-old Olympian Maggie Voisin, of Whitefish, Mont., was not able to compete in the event due to a training injury sustained last week.
"I'm happy with the way I skied today. It's still so much fun," Herman said, adding, "Now it's party time! Devin and I have been saying it's got to be one of us up there, preferably both, but one is better than none. This is awesome!"
In other Canadian results, Yuki Tsubota from Whister, British Columbia was sixth after crashing hard and leaving the course on a stretcher to treat a jaw injury, and pre-race favorite Kaya Turski  of Montreal, who had battled a virus all week, finished 19th.
Both Canadian medalists paid tribute to the late Sarah Burke after their runs. "She was such an inspiration to me and everyone else in free skiing that I just think that she would be so proud and happy. It's truly an honor," said Howell.
The men's slopestyle skiing final kicks off Thursday.
OFFICIAL RESULTS
2014 Olympic Winter Games
Sochi/Rosa Khutor, Russia – Feb. 11, 2014
Women's Ski Slopestyle

Rank
Bib
Country
Name
Run 1
Run 2
Best Score
1
2
CAN
Dara HOWELL
94.20
1
48.40
5
94.20
2
4
USA
Devin LOGAN
85.40
2
30.00
9
85.40
3
16
CAN
Kim LAMARRE
15.00
11
85.00
1
85.00
4
32
AUS
Anna SEGAL
77.00
3
28.80
10
77.00
5
5
SWE
Emma DAHLSTROM
72.80
4
75.40
2
75.40
6
20
CAN
Yuki TSUBOTA
71.60
5
28.40
11
71.60
7
12
GBR
Katie SUMMERHAYES
19.40
10
70.60
3
70.60
8
6
ITA
Silvia BERTAGNA
69.60
6
21.80
12
69.60
9
11
SUI
Eveline BHEND
58.40
7
63.20
4
63.20
10
3
USA
Keri HERMAN
50.00
8
35.40
7
50.00
11
30
USA
Julia KRASS
42.40
9
38.60
6
42.40
12
18
SUI
Camillia BERRA
5.60
12
30.40
8
30.40