Traverse City, MI – Traverse City Tourism announced this week that the area's Shanty Creek Resorts has completed major improvements to its winter infrastructure in preparation for the 2014-15 ski and snowboard season.
The new facilities will include a new restaurant and day lodge, new rental and instruction centers and a groomed multi-use trail for non-skiers. In addition, many amenities and features have been shifted from one area of the sprawling 4,500-acre resort to another.
The resort is composed of three distinct "villages"—Summit, Schuss, and Cedar River. Its recent transformation was made possible by the acquisition of previously unavailable space at Cedar River Village, on the north face of Schuss Mountain. It will affect a wide range of amenities including ski rentals and instruction facilities, mountain biking, dining, snow tubing and even dining.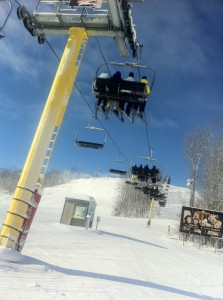 "We've listened to our guests," said Steve Kershner, the resort's director of ski and snow sports. "These changes are going to make a lot of people very happy, and that's what it's all about."
The resort has moved its main ski operation from Schuss Village to a dedicated area at Cedar River. Its ski rental and ski school facilities are now located inside The Lodge at Cedar River, which provides ski-in/ski-out access to the Schuss Mountain slopes, where a new beginner ski area has been established.
Shanty's popular Alpine Tubing Park, which had occupied the site of the new beginner slope, has been moved to Summit Village, where its new perch on Summit Mountain will provide users with access to the restaurants and meeting areas of the Lakeview Hotel and views of Lake Bellaire.
Meanwhile, the former home of the ski school and rental facilities at Schuss Village has been transformed into the Yellow Lift Day Lodge – a dedicated space for day skiers who don't intend to use the resort's lodging or restaurant facilities – furnished with seasonal lockers, banquet seating and vending machines.
Shanty's food service operation has also received a makeover. The resort has opened a new restaurant and bar, The River Bistro, in The Lodge at Cedar River, featuring sandwiches, flatbread pizzas, over 45 regional and international beers and fresh-squeezed fruit cocktails in a chic setting with classic pub games like pool, foosball and darts.
Ivan's Mountainside Grill at Schuss Village, the resort's traditional après-ski eatery, has been renamed Ivan's Café and converting from a table service restaurant to a self-serve cafeteria with expanded offerings such as homemade soups, fresh salads, wraps and "kids" items like chicken fingers and fries. Despite the transformation, Ivan's will continue to be the after-dark party spot at Shanty, with live entertainment and a full-service bar.
The resort has also created a new 5 km groomed multi-purpose trail to accommodate recreational activities that don't involve cross-country skiing: snowshoeing, dog walking, and fat-tire biking. Its trailhead will be located near the Lodge at Cedar River. Shanty Creek already has 30 kilometers of groomed track-set Nordic ski trails, but decided that other users needed a trail of their own.