Breckenridge, CO – The Dew Tour Mountain Championships returns to the Breckenridge Ski Resort in Breckenridge, Colo. December 11-14. The four-day event will feature many of the world's best international snowboard and freeski athletes, including all eight superpipe and slopestyle gold medalists from the Sochi Olympics. In addition, NBC and NBCSN will combine to present seven hours of Dew Tour Mountain Championships coverage, December 13-14.
Athletes competing in the 2014 Dew Tour Mountain Championships include snowboard slopestyle competitors Sage Kotsenburg (USA/Gold), Mark McMorris (CAN/Bronze), Jamie Anderson (USA/Gold), Enni Rukajarvi (FIN/Silver) and Jenni Jones (GBR/Bronze); snowboard superpipe competitors Iouri Podladtchikov (SUI/Gold), Ayumu Hirano (JPN/Silver), Kaitlyn Farrington (USA/Gold) and Kelly Clark (USA/Bronze); freeski slopestyle competitors, Joss Christensen (USA/Gold), Gus Kenworthy (USA/Silver), Nick Goepper (USA/Bronze), Dara Howell (CAN/Gold), Devin Logan (USA/Silver) and Kim Lamarre (CAN/Bronze); and freeski superpipe competitors David Wise (USA/Gold), Mike Riddle (CAN/Silver), Kevin Rolland (FRA/Bronze), Maddie Bowman (USA/Gold), Marie Martinod (FRA/Silver) and Ayana Onozuka (JPN/Bronze).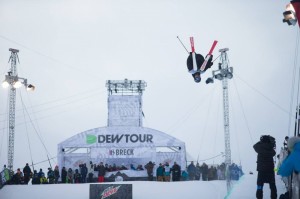 SNOWBOARD
In the men's snowboard superpipe competition, 2014 Winter Olympic gold medalist Iouri Podladtchikov will face a collection of competitors vying to top the podium, including Ayumu Hirano and Danny Davis. In the women's snowboard superpipe contest, Winter Olympic gold medalist Kaitlyn Farrington and bronze medalist Kelly Clark will compete. The men's snowboard slopestyle competition will feature Winter Olympic gold medalist Sage Kotsenburg against bronze medalist Mark McMorris, while the women's competition will include Olympic gold medalist Jamie Anderson, silver medalist Enni Rukajarvi and bronze medalist Jenny Jones.
FREESKI
After making its Winter Olympic debut at the 2014 Sochi Games, the sport of freeski will see top international contenders take the stage at the Dew Tour Mountain Championships. In the men's freeski superpipe contest Olympic gold medalist David Wise will face silver medalist Mike Riddle and bronze medalist Kevin Rolland. The American trio that topped the first-ever Olympic men's freeski slopestyle podium in Sochi, including gold medalist Joss Christensen, silver medalist Gus Kenworthy and bronze medalist Nick Goepper, will once again be going head-to-head, this time for the coveted Dew Cup. In the women's freeski slopestyle contest, Olympic gold medalist Dara Howell, silver medalist Devin Logan and bronze medalist Kim Lamarre will be competing.
TELEVISION
The 2014 Dew Tour Mountain Championships will be televised, December 13-14 on NBC and NBCSN.
Saturday, Dec. 13  – 1-3 p.m.  – NBC
Saturday, Dec. 13 – 1-2:30 a.m. – NBCSN
Sunday, Dec. 14 – 1-3 p.m. – NBC
Sunday, Dec. 14 – 4-5:30 p.m. – NBCSN
(All times ET)