Aspen, CO – Nicole Hosp of Austria defeated the world's top female skiers on Sunday in Aspen, completing the 2014 Audi FIS Ski World Cup slalom course with a combined time of 1:44.90 to capture gold at the  at the Nature Valley Aspen Winternational. Hosp was nineteen hundredths of a second faster than Frida Hansdotter of Sweden, who placed second with a final time of 1:45.09, and Kathrin Zettel of Austria rounded out the podium in third with a final time of 1:45.85.
Zettel placed second in Saturday's giant slalom in Aspen.
Hosp, who was the overall World Cup champion in the 2006/07 season, had not stood atop the podium since 2008. "I was fighting for it this season," she said. "I want to make it a good season. I'm so happy it works again and I hope I can do it in the other disciplines."
American Mikaela Shiffrin was in the lead after the first run, slightly ahead of Slovenian Tina Maze, but landed in fifth place overall with a time of 1:45.98. Shiffrin cited her nerves.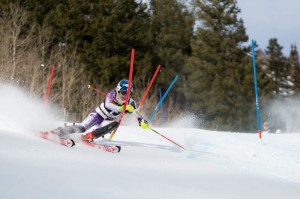 "I was really nervous at the start and was a little stiff on the first run," said Shiffrin, of Eagle, Colo. "I just have to not let the nerves impede my skiing." Although she said she wasn't as nervous second run, she did remark, "I have some training to do."
Resi Stiegler, another American ski racer from Jackson, Wyo., came from the 25th position to land in 11th place with a time of 1:46.80.
"I was trying to stick to my plan. I know I'm fast and I know I'm good," said Stiegler. "That was part of my problem last year: I didn't believe in myself. I have to stop thinking so much."
"Resi did a great job and I'm very happy for her – two good results to start the season. It's just a matter of time before she's in the top five again," added U.S. Ski Team Alpine Director, Patrick Riml.
Paula Moltzan (Lakeville, Minn.) had a few bobbles in the first run before a big crash and did not finish. Hailey Duke (Boise, Idaho) missed the flip and did not qualify for the second run.
The women's speed teams head next to Lake Louise, Alberta, Canada, for downhill and super G races. The tech teams do not race until December 13 in Courchevel, France.
Ski racing continues in Aspen Dec. 1-4 with men's giant slalom NorAm races today and Tuesday followed by women's giant slalom NorAm races Wednesday and Thursday.
OFFICIAL RESULTS
Audi FIS Alpine Ski World Cup
Aspen, Colo. – November 30, 2014
Women's Slalom
| Rank | Athlete | Country | Results |
| --- | --- | --- | --- |
| 1 | HOSP Nicole | AUT | 1:44.90 |
| 2 | HANSDOTTER Frida | SWE | 1:45.09 |
| 3 | ZETTEL Kathrin | AUT | 1:45.85 |
| 4 | PIETILAE-HOLMNER Maria | SWE | 1:45.95 |
| 5 | SHIFFRIN Mikaela | USA | 1:45.98 |
| 6 | STRACHOVA Sarka | CZE | 1:46.07 |
| 7 | KIRCHGASSER Michaela | AUT | 1:46.19 |
| 8 | GAGNON Marie-Michele | CAN | 1:46.28 |
| 9 | MAZE Tina | SLO | 1:46.59 |
| 10 | SCHILD Bernadette | AUT | 1:46.63 |