Rainbow Mountains, AK – One  backcountry skier survived and another died in an avalanche near the Richardson Highway in Alaska's Rainbow Mountains southeast of Fairbanks on Saturday, the Alaska State Troopers report.
A Troopers dispatch indicates that the avalanche was reported at around 6:21 p.m. on Saturday to their unit in Fairbanks. Michael Hopper, 63, of Fairbanks was skiing near milepost 205 of the Richardson Highway with a man tentatively identified as Eric Peterson, 35, of Delta Junction. The pair heard the snow collapse about 20 feet above them before both skiers were carried by the slide.
Hopper reported that it took two to three hours to dig himself out of the slide debris before he set about trying to locate Peterson. He spotted Peterson's glove sticking out of the snow and extricated Peterson's body.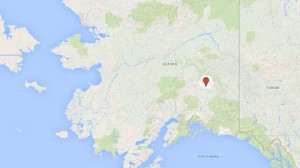 Hopper then descended to the highway and flagged down a passing motorist, who provided a cell phone to contact the Troopers.
News reports indicate that Hopper is the owner of the Black Rapids Lodge, located about 20 miles from the avalanche site. Black Rapids Lodge volunteer David Savage described Hopper to KTUU-TV as "very educated in those mountains."
Troopers report that the area the pair were skiing in was "widely unstable and (is) continuing to deteriorate with the additional heavy snowfall." In addition to the Troopers, members of the Fort Greely Fire Department, Rural Delta Fire/Rescue and military personnel from Black Rapids responded. Efforts to recover Peterson's body are pending an improvement in both weather and snow stability.