Big Bear Lake, CA – To celebrate New Year's Eve, Big Bear Mountain Resorts will host its annual Torchlight Parade. Beginning at 7 p.m., a wave of skiers and snowboarders, each carrying a crimson-lit torch, will descend Southern California's Snow Summit ski resort, illuminating the slopes.
To create the magical path of light, 250 employees of Big Bear Mountain Resort, some dressed in holiday costumes, ski or snowboard in serpentine fashion down the mountain. As a free event, onlookers are encouraged to watch from Summit Inn or the Slopeside Pub at the base of Snow Summit.
"The Snow Summit Torchlight Parade is a unique New Year's Eve tradition," says Chris Riddle, Big Bear Mountain Resorts Vice President of Marketing. "After a fun day on the slopes, watching the mountains light up in a spectacular display is a memorable experience that families and guests of all ages really enjoy. And with two great parties to choose from following the parade, Snow Summit and Bear Mountain are the places to be for a special New Year's Eve."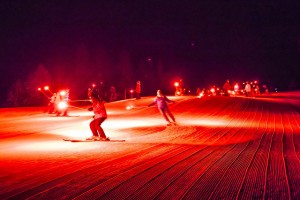 After the parade, guests can continue the evening's excitement and festivities by heading to one of Big Bear Mountain Resorts New Year Eve's parties at the Summit Inn at Snow Summit, from 8 p.m. until 12:30 a.m., or The Board Room Bar at Bear Mountain, from 9 p.m. to 1 a.m. At Summit Inn, partygoers can enjoy hors d'oeuvres, live music by DJ Desi and party favors. At The Board Room Bar, enjoy food, a photo booth and live music by DJ Slipmatt. Both parties will be open bar and include a champagne toast.
The New Year's Eve parties at Snow Summit and Bear Mountain are for adults age 21 and older. Tickets for both parties are $20 per person and may be purchased at their respected doors. Guests must present a valid ID.