Kreischberg, Austria – Olympic champion Hannah Kearney, of Norwich, Vt., stepped it up another notch, taking gold in Monday's dual moguls in a thrilling finals matchup with Canadian Justine Dufour-Lapointe. It was Kearney's eighth career World Championships medal, the most ever of any freestyle skier.
After skiing to a silver medal in the single moguls competition on Sunday, Kearney reviewed her performance and set tactical goals for the duals competition.
"I had it as my goal to win the qualifying runs so I would have my pick of the course," said Kearney. "It helps you focus because you only have to look at one side of the course. I also went to a helicopter on the bottom air instead of a heli mute grab because it allowed me to ski a little bit faster and have a better landing."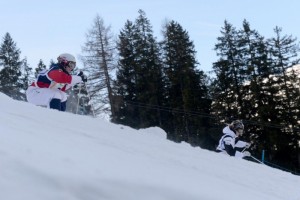 Coming into Kreischberg, Kearney had not yet captured a World Championships win in the duals competition. She now has that golden snowflake and a new record on her resume as the most decorated freestyle skier in World Championships history.
"It's really cool. It's a testament to my strength over a long period of time," said Kearney. "It was ten years ago that I got my first World Championships medal, and to continue to come back and fight and walk away with eight medals—three gold—that's a nice necklace."
"I'm really happy with how I performed today," said silver medalist Justine Dufour-Lapointe, who won single moguls gold on Sunday. "I knew I had to give it my all against Hannah in the finals and take chances. It's what I did out there and I don't have any regrets. I may not have won today, but it's still cool being a silver medalist. It's been a great weekend for me. I'm overwhelmed thinking of everything I accomplished. I will always remember this weekend."
Her sister Chloé Dufour-Lapointe, the 2013 World Champion, finished fourth overall after losing 18-17 to bronze medalist Yulia Galysheva of Kazakhstan.
The U.S. men battled it out against a tough line up of Canadian skiers, but were unable to find the podium as the Canadian trio of Mikaël Kingsbury (gold), Philippe Marquis (silver) and Marc-Antoine Gagnon (bronze) swept the dual moguls event for the first time in World Championships history.
For Kingsbury, it was his second medal in as many days after winning silver in the single moguls event on Sunday. The native of Deux-Montagnes, Quebec defeated Marquis 20-15 in the finals.
"I feel amazing," said Kingsbury. "You know being a world champion is crazy, but what's even better is being on the podium with two of your best friends and teammates. We've been talking about a sweep for a long time with the three of us. I think it happened at the right moment here at the World Championships. Other than the Olympic Games, there's no other place that this could be bigger. We're very proud. I'm at a loss for words."
Marquis defeated Gagnon in the semifinal by the slimmest of margins, 18-17, to guarantee himself his first FIS World Championship medal.
"I think we were all very hungry after the singles event yesterday," said Marquis. "It was a day of redemption for us. We had a mission and we did our job. We delivered. It's a pretty special moment. It proves the strength of the Canadian Freestyle Ski Team. To be part of this is really cool as a veteran of the team. I couldn't be more proud of myself and all my teammates."
Gagnon would then defeat Sho Kashima for bronze after the American crashed out. It is Gagnon's first career World Championship medal as well.
"It feels really good to be on the podium at the World Championships, but to do it with Mik and Phil is even better," said Gagnon. "We've always talked about being on the podium together, but on competition day we just focus on our performance. Things might not go the way you want them to when you think about something like that too much. To do this at a World Championships is pretty crazy."
"Sho (Kashima) showed up this morning and he was ready to charge. He carried through the whole day," said U.S. head moguls coach Garth Hager. "When he's on, he's a performer and he's hard to beat. Unfortunately he a had a little mishap when he switched courses. He got behind out of the gate and had to push speed, and it got too fast for him."
OFFICIAL RESULTS
2015 FIS Freestyle Ski World Championships
Kreischberg, Austria – Jan. 19, 2015
Dual Moguls
Women
| Rank | Bib | Name | Year | Nation |
| --- | --- | --- | --- | --- |
|  1 |  2 | KEARNEY Hannah | 1986 | USA |
|  2 |  1 | DUFOUR-LAPOINTE Justine | 1994 | CAN |
|  3 |  11 | GALYSHEVA Yulia | 1992 | KAZ |
|  4 |  3 | DUFOUR-LAPOINTE Chloe | 1991 | CAN |
|  5 |  6 | COX Britteny | 1994 | AUS |
|  6 |  12 | LAFFONT Perrine | 1998 | FRA |
|  7 |  18 | RAKHIMOVA Regina | 1989 | RUS |
|  8 |  7 | ROBICHAUD Audrey | 1988 | CAN |
|  9 |  5 | DUFOUR-LAPOINTE Maxime | 1989 | CAN |
|  10 |  14 | HOSHINO Junko | 1989 | JPN |
Men
| Rank | Bib | Name | Year | Nation |
| --- | --- | --- | --- | --- |
|  1 |  1 | KINGSBURY Mikael | 1992 | CAN |
|  2 |  2 | MARQUIS Philippe | 1989 | CAN |
|  3 |  9 | GAGNON Marc-Antoine | 1991 | CAN |
|  4 |  19 | KASHIMA Sho | 1986 | USA |
|  5 |  31 | REIHERD Dmitriy | 1989 | KAZ |
|  6 |  12 | ROWLEY Thomas | 1994 | USA |
|  7 |  7 | DENEEN Patrick | 1987 | USA |
|  8 |  5 | SMYSHLYAEV Alexandr | 1987 | RUS |
|  9 |  8 | BENNA Anthony | 1987 | FRA |
|  10 |  4 | GRAHAM Matt | 1994 | AUS |