Kreischberg, Austria – Olympian Ryan Stassel of Anchorage dominated the slopestyle field to take home his first ever FIS World Championship title in Kreischberg on Wednesday, while teammate Kyle Mack, of West Bloomfield, Mich., earned bronze. The two were separated by 2013 World Champion Roppe Tonterri of Finland, who took the silver.
In a three run best-of format, Stassel showed the world that he meant business on Kreischberg's six-feature course, earning the two highest scores of the day. Stassel was the only rider in the field to land three 1260s, including a frontside double cork 1260 off the first jump, which earned him one of the highest scores in World Championships history (97.50).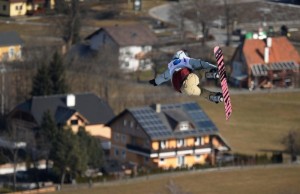 Tonteri's silver medal run consisted of a cab 270 to backside boardslide, halfcab to 50/50 to backside 360 out, frontside 1080 inverted, backside 1260 double cork, halfcab to 50/50 to backside 180 out, cab 1440. 17-year-old Mack put down two 1260s and frontside double 1080 to earn his first World Championships medal.
"I was pretty nervous on top, but once you drop in it turns into excitement and you just ride. I'm speechless," said Stassel, after the event. "I have been working on that run for a long time and it feels really good to finally pull it all together here at the World Championships."
On the women's side, Miyabi Onitsuka from Japan took first, Anna Gasser from Austria second and Klaudia Medlova from Slovakia third.
OFFICIAL RESULTS
2015 FIS Snowboard World Championships
Kreischberg, Austria – Jan. 20, 2015
Slopestyle
Men
| Rank | Bib | Name | Year | Nation | Result |
| --- | --- | --- | --- | --- | --- |
|  1 |  36 | STASSEL Ryan | 1992 | USA |  97.50 |
|  2 |  38 | TONTERI Roope | 1992 | FIN |  93.75 |
|  3 |  1 | MACK Kyle | 1997 | USA |  92.75 |
|  4 |  6 | SHARPE Darcy | 1996 | CAN |  90.75 |
|  5 |  8 | BOESIGER Jonas | 1995 | SUI |  84.00 |
|  6 |  7 | CICCARELLI Michael | 1996 | CAN |  82.25 |
|  7 |  49 | NECAS Jan | 1984 | CZE |  78.75 |
|  8 |  10 | KUNDRATITZ Philipp | 1995 | AUT |  72.50 |
|  9 |  3 | HEDBERG Mans | 1993 | SWE |  69.75 |
|  10 |  35 | O CONNOR Seamus | 1997 | IRE |  54.50 |
Women
| Rank | Bib | Name | Year | Nation | Result |
| --- | --- | --- | --- | --- | --- |
|  1 |  27 | ONITSUKA Miyabi | 1998 | JPN |  92.50 |
|  2 |  2 | GASSER Anna | 1991 | AUT |  89.50 |
|  3 |  28 | MEDLOVA Klaudia | 1993 | SVK |  84.25 |
|  4 |  3 | CANDRIAN Sina | 1988 | SUI |  79.50 |
|  5 |  29 | BLASMAN Jenna | 1993 | CAN |  61.25 |
|  6 |  1 | GYARMATI Anna | 1993 | HUN | |
|  7 |  22 | FULLER Aimee | 1991 | GBR |  69.50 |
|  8 |  36 | SUITIALA Ella | 1989 | FIN |  34.50 |
|  9 |  12 | SHORR Karly | 1994 | USA |  21.00 |
|  10 |  8 | JENSON Jessika | 1991 | USA |  14.00 |