North Conway, NH – New Hampshire's Cranmore Mountain Resort will host their annual Great Penguin Race this Sunday, partnering with with Conway's End 68 Hours of Hunger for the event. All proceeds from the race will benefit the cause.
Guests can purchase $5 rubber penguins to race down the base of the ski resort's North Slope on Sunday.
Registration will be held on the third floor of the main base lodge from 9 a.m. to 11:30 a.m.. Penguins will be assigned numbers for the race during registration.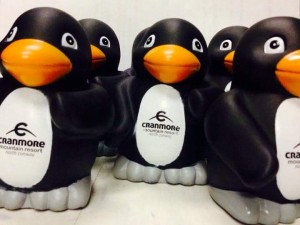 The Great Penguin Race will begin at 12 noon. Winning penguins will be determined from each heat and will compete against each other in the finals. The race will end at 1:30 p.m. with an awards ceremony, prizes and a raffle for participants.
End 68 Hours of Hunger is a non-profit designed to provide families with meals for weekends, between the free lunch they receive in school on Friday afternoon and the free breakfast they receive in school on Monday morning. The goal is to help eliminate the approximate 68 hours of hunger they may experience away from school for the weekend.