Aspen, CO – The first day of X Games 2015 in Aspen is in the books, and the women's superpipe gold medal is in familiar territory. In a field stocked full of eight world-class freeskiers from countries spanning the world, South Lake Tahoe's Maddie Bowman stomped her first run through Buttermilk's halfpipe to win another gold medal. Brita Sigourney, of Carmel, Calif., took third behind Japan's Olympic bronze medalist Ayana Onozuka.
For the first time since the late Sarah Burke won back-to-back-to-back X Games gold medals in the halfpipe, Bowman won her third consecutive X Games gold medal on Wednesday night in Aspen. Considering Bowman also won Olympic gold in Sochi in the same event, it is fair to say that women's halfpipe skiing has a true champion representing the sport.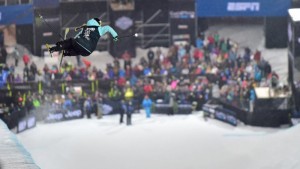 "Tonight was awesome, and I can't believe it happened," said Bowman. "I grew up idolizing Sarah Burke, and the first time I met her was at X Games. Sarah is the reason we're here. To win X Games three times in a row, like Sarah, is pretty special."
Bowman's winning run came on her first attempt of three through the halfpipe. Exhibiting technical tricks, large amplitude, and stylish grabs throughout her entire run, Bowman compiled a winning scored of 85.66. Bowman linked a right-side 900 with a left-side 540 and then later nailed a left-side 900 and right-side 720 in succession to show she can spin in both directions. The spinning combinations, switch takeoffs and landings, down-the-pipe airs, and unparalleled style proved to be a winning equation for Bowman, again.
"The secret for winning is just having fun," Bowman said at the bottom of the halfpipe, another gold around her neck. "When you're having a great time with your friends is when you ski the best."
Both Onozuka and Sigourney went into their third runs through the halfpipe with the ability to outscore Bowman, and both athletes put in solid attempts. In the end, however, Bowman's score proved to be too much.
Sigourney won her second X Games bronze medal in the halfpipe, and last night was her third X Games superpipe podium. Sigourney won silver in 2011 and bronze in 2012.
"I am really stoked to end up on the podium at X Games again," said Sigourney. "It's been a few years and I have had a lot of injuries since the last time. So, I am really happy to be back at it and I hope the year keeps progressing from here."
OFFICIAL RESULTS
X Games Aspen 2015
Aspen, Colo. – Jan. 21, 2015
Women's Ski SuperPipe
| RANK | NAME | RUN 1 | RUN 2 | RUN 3 | BEST |
| --- | --- | --- | --- | --- | --- |
| 1 | Maddie Bowman | 85.00 | 78.00 | R85.66 | 85.66 |
| 2 | Ayana Onozuka | 80.00 | 62.33 | R83.33 | 83.33 |
| 3 | Brita Sigourney | 77.00 | R78.66 | 30.33 | 78.66 |
| 4 | Angeli VanLaanen | 69.66 | 23.00 | 11.66 | 69.66 |
| 5 | Janina Kuzma | 60.33 | 66.66 | 60.00 | 66.66 |
| 6 | Annalisa Drew | 17.66 | 46.66 | 66.00 | 66.00 |
| 7 | Marie Martinod | 65.33 | 9.33 | 65.66 | 65.66 |
| 8 | Roz Groenewoud | 27.33 | — | — | 27.33 |