Park City, UT – World Champions Lindsey Vonn, Ted Ligety, Bode Miller and Mikaela Shiffrin headline a strong group of 26 athletes, 14 men and 12 women, named by the U.S. Ski and Snowboard Association on Wednesday to compete in the 2015 FIS Alpine Ski World Championships Feb. 2-15 on home turf in Vail/Beaver Creek, Colo. Joining them will be five-time medalist Julia Mancuso as well as Audi FIS Ski World Cup downhill winners Travis Ganong and Steven Nyman.
Officials with the U.S. Ski Team say that it is the strongest team they have fielded in the three World Championships held in Vail/Beaver Creek. So far this season, the U.S. Ski Team has had seven athletes on Audi FIS Ski World Cup podiums including five separate winners.
"We're proud to bring a strong group of athletes to the World Championships in our team's home country," said USSA Alpine Director Patrick Riml. "Vail/Beaver Creek will put on a great show for the world and we expect our athletes to be competitive for medals for our home country fans."
The top two athletes by selection criteria in each event will get a start right, as will the defending World Champion. Coaches will determine the remaining two spots the day prior to each competition.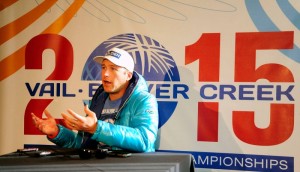 "I'm ready for Vail! I feel confident, I'm skiing well and hopefully it will be a good World Championships for me," said Vonn, now with 64 World Cup wins, a Vail hometown girl who presently leads both the downhill and super G World Cup standings. "I have a lot of confidence after having a few days of training at Beaver Creek. It's a very difficult hill and one that requires a lot of tactics. I'm going to go in and ski my best like I always have and hopefully it will work out.
"I have more pressure on myself because I want to perform well for my family," Vonn admitted. "Everyone is going to be there. I want to have it be a really fun World Championships for them and have something to celebrate."
Vonn presently sits in third in the World Cup overall standings, one spot ahead of Shiffrin, who also hails from the Vail Valley.
"I'm realizing being home that everybody is working in Vail/Beaver Creek right now to get it to go off without a hitch," Shiffrin said. "It's pretty incredible, because it's going to be really big and special – like a mini Olympics. And I'm really excited to be a part of it."
Ligety, of Park City, Utah, has already tasted World Championships success, having won triple gold in 2013 with super G, giant slalom and combined victories.
"It's awesome having the World Champs in the U.S. It's something I've never experienced before, so it's going to be a lot of fun having a big event in the U.S.," he said. "It's always nice to take the Euros out of their element a little bit and have them living in their duffel bags for a couple of weeks as opposed to always being the North Americans. Beaver Creek has always done an amazing job preparing hills for us and it's been a place where I've had a good amount of success as well."
After undergoing elective back surgery this Fall, Miller looks to make a comeback for World Championships. He foreran races at both Wengen, Switzerland and Kitzbuehel, Austria, but he has not had his first official start yet in the 2014-15 season. He'll bookend his career with World Championships in Vail/Beaver Creek. Miller was on the 1999 Team in Vail/Beaver Creek, finishing eighth in slalom, and will be attending his eighth World Championships.
In addition to the ski racing action, fans will be treated to a whole host of on-site events and festivities throughout the World Championships, including a headline free concert on Feb. 9 by Barenaked Ladies.
"Opening Ceremonies are almost here, and we're thrilled to add to the excitement a little bit more with another big act announced today," said Ceil Folz, president of the Vail Valley Foundation and 2015 World Championships Organizing Committee. "We hope that fans will enjoy what we have in store for them each evening after the races are over –we have a stellar lineup and can't wait to deliver it in a few short days."
The free concerts, scheduled in conjunction with the nightly Medals Presentation at Vail's Championships Plaza, located at Solaris, will be free to the public with the live show kicking off each evening at 6:30pm. It is recommended that guests arrive early to ensure a prime viewing spot. Guests should also plan for security bag checks.
Nine other World Championships free concert headliners accompany Wednesday's Barenaked Ladies announcement, and include Michael Franti & Spearhead on February 3, Andreas Gabalier on February 4, Mix Master Mike on February 5, American Authors on February 6, O.A.R. on February 7, Craig Wayne Boyd on February 8, KC and the Sunshine Band on February 10, Phillip Phillips on February 12 and CeeLo Green on February 14.  Prior to the nightly festivities,  Sierra Nevada Brewery will operate their Winter Beer Camp, opening at 4 p.m. daily at the International Bridge in Vail.
2015 FIS Alpine Ski World Championships Team
Men
(Name, hometown, birthdate, USSA club, past World Champs)
Will Brandenburg, Spokane, WA, 1/1/87, Schweitzer Alpine Racing (2011, 2013)
David Chodounksy, Crested Butte, CO, 6/25/84, Crested Butte Ski Team (2011, 2013)
Tommy Ford, Bend, OR, 3/20/89, Mt. Bachelor Ski Education Foundation (2011)
Travis Ganong, Squaw Valley, CA, 7/14/88, Squaw Valley Ski Team (2011, 2013)
Jared Goldberg, Holladay, UT, 6/15/91, Snowbird Sports Education Foundation
Tim Jitloff, Reno, NV, 1/11/85, Park City Ski Team (2007, 2009, 2011, 2013)
Ted Ligety, Park City, UT, 8/31/84, Park City Ski Team (2005, 2007, 2009, 2011, 2013)
Nolan Kasper, Warren, VT, 3/27/89, Burke Mountain Academy (2011)
Tim Kelley, Starksboro, VT, 5/20/86, Cochran Ski Club
Bode Miller, Franconia, NH, 10/12/77, Carrabassett Valley Academy (1999, 2001, 2003, 2005, 2007, 2009, 2011)
Steven Nyman, Sundance, UT, 2/12/82, Park City Ski Team (2007, 2009, 2011, 2013)
Brennan Rubie, Salt Lake City, UT, 4/8/91, Snowbird Sports Education Foundation
Marco Sullivan, Squaw Valley, CA, 4/27/80, Squaw Valley Ski Team (2003, 2007, 2009, 2013)
Andrew Weibrecht, Lake Placid, NY, 2/10/86, New York Ski Education Foundation (2009, 2013)
Women
Stacey Cook, Mammoth Mountain, CA, 7/3/84, Mammoth Mountain Ski Team (2007, 2009, 2011, 2013)
Haley Duke, Boise, ID, 9/17/85, Park City Ski Team, (2009)
Lila Lapanja, Incline Village, NV, 12/3/94, Diamond Peak Ski Team/Sugar Bowl
Julia Mancuso, Squaw Valley, CA, 3/9/84, Squaw Valley Ski Team (2003, 2005, 2007, 2009, 2011, 2013)
Megan McJames, Park City, UT, 9/24/87, Park City Ski Education Foundation (2009, 2011)
Alice McKennis, Glenwood Springs, CO, 8/19/89, Rowmark Academy
Paula Moltzan, Lakeville, MN, 5/7/94, Buck Hill Ski Team
Laurenne Ross, Bend, OR, 8/17/88, Mt. Bachelor Ski Education Foundation (2009, 2011, 2013)
Mikaela Shiffrin, Eagle-Vail, CO, 3/13/95, Burke Mountain Academy (2013)
Resi Stiegler, Jackson Hole, WY, 11/14/85, Jackson Hole Ski Club (2003, 2005, 2007, 2009, 2011, 2013)
Lindsey Vonn, Vail, CO, 10/18/84, Buck Hill/Ski and Snowboard Club Vail (2005, 2007, 2009, 2011, 2013)
Jackie Wiles, Aurora, OR, 7/13/92, Pacific Northwest Ski Association/White Pass Ski Club
COMPETITION AND U.S. BROADCAST SCHEDULE (all times Eastern Standard)
FIS Alpine World Ski Championships
Vail/Beaver Creek
Mon. Feb. 2 – Opening Ceremony
Tue. Feb. 3 – Women's Super G, 12:55-2:30 p.m. NBCSN
Wed. Feb. 4 – Men's Super G, 12:55-2:30 p.m. NBCSN
Fri. Feb. 6 – Women's Downhill, 12:55-2:30 p.m. NBCSN
Sat. Feb. 7 – Men's Downhill, 2:30-4:00 p.m. NBC
Sun. Feb. 8 – Men's Combined-downhill, 11:55 a.m.-2:00 p.m. Universal Sports
Sun. Feb. 8 – Men's Combined-slalom, 4:30-6:00 p.m. NBC
Mon. Feb. 9 – Women's Co Combined-downhill, 11:55 a.m.-2:00 p.m. Universal Sports
Mon. Feb. 9 – Women's Combined-slalom, 4:0-5:00 p.m. NBCSN
Tue. Feb. 10 – Nations Team Event, 2:15-4:00 p.m. Universal Sports
Thu. Feb. 12 – Women's Giant Slalom-first run,11:55 a.m.-2:00 p.m., Universal Sports
Thu. Feb. 12 – Women's Giant Slalom-second run, 4:00-5:00 p.m. NBCSN
Fri. Feb. 13 – Men's Giant Slalom-first run,11:55 a.m.-2:00 p.m., Universal Sports
Fri. Feb. 13 – Men's Giant Slalom-second run, 4:00-5:00 p.m. NBCSN
Sat. Feb. 14 – Women's Slalom-first run,11:55 a.m.-2:00 p.m., Universal Sports
Sat. Feb. 14 – Women's Slalom-second run, 4:30-6:00 p.m. NBC
Sun. Feb. 15 – Men's Slalom-first run,11:55 a.m.-2:00 p.m., Universal Sports
Sun. Feb. 15 – Men's Slalom-second run, 4:30-6:00 p.m. NBC
Sun. Feb. 15 – World Championships Recap, 11:30 p.m.-12:30 a.m. NBCSN