Hood River, OR – TREW, Inc. launched their new 2015-16 collection of performance outdoor apparel on Monday, the company's first collection developed within their direct-only sales model.
Company officials indicate that by connecting directly to consumers, TREW is able to deliver market-leading product and improve the speed-to-market of new materials and technologies, while maintaining an even higher level of transparency and customer engagement.
"It's a fantastic time for TREW, and for the whole outdoor industry," said TREW founder and CEO Tripp Frey.  "We couldn't be more excited about this year's new products.  The direct connection has freed us to source the best available materials and build products that truly impact the customer.  Our new lineup is a reflection of the performance, craftsmanship and attention to detail the discerning outdoor consumer has been looking for."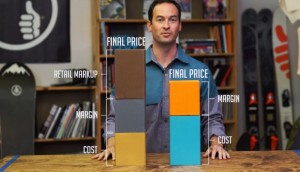 By moving to a direct distribution model, company officials say that TREW is able to invest more heavily in the product and source the highest quality fabrics, construction and technologies, launching products in months versus the typical years-long cycle. Although purchasing higher quality fabrics increases the materials cost, eliminating the dealer mark-up allows TREW to lower the price to consumers.
"When we started this business seven years ago, our goal was to make the best gear possible," continued Frey.  "We came to realize the many limitations of building premium products in a traditional retail model.  By selling direct to the consumer, these limitations and the retail markup go away."
Today, consumers expect to directly engage with the brands they love.  "We've seen this trend in multiple industries such as farm-to-table sourcing and craft breweries, and quality-focused consumer brands like American Giant, Casper or Mack Weldon — all examples of the increasing emphasis on craftsmanship and transparency.  This is what TREW stands for," concluded Frey, "And the proof is in our new line of products."
TREW's new line may now be purchased directly at TrewGear.com.