Lausanne, Switzerland – A professional snowboarder from Colorado is charting new territory – not in his sport, but in a Swiss courtroom.
Justin Reiter, of Steamboat Springs, is moving forward with a lawsuit against the International Olympic Committee for dropping parallel snowboarding from the 2018 Winter Games in South Korea.
The parallel events of slalom and giant slalom — snowboarding's form of ski racing — have declined in popularity in recent years, especially in the U.S. where U.S. Snowboarding's support for athletes in the sport has dwindled. In the year leading up to the 2014 Games in Sochi, Reiter lived out of his Toyota pickup truck and trained without a coach. But even though his participation has become largely self-funded,  Reiter, has nevertheless achieved success running gates, finishing third in the World Cup rankings for 2014-15 after earning a World Championships silver medal in 2013. He found himself atop the World Cup podium for the first time earlier this year.
"My journey to the top has been unorthodox and I am used to fighting an uphill battle," Reiter acknowledges. "From living in my truck to being a full time blue collar athlete putting for a professional effort for amateur pay I am used to the struggle.  I thrive on it."
So it was personally devastating when on June 7, Reiter received a letter from the International Olympic Committee (IOC) in Switzerland that the group was dropping parallel snowboarding from the Games in favor of something more popular. That "something more popular" turned out to be Snowboard Big Air, which was added to the program in June with the International Ski Federation's (FIS) approval.
Now age 34, it's unlikely that Reiter will have another chance to chase Olympic glory after 2018. "I am a journeymen athlete, an underdog, and now an advocate for my sport and all athletes speaking out against the unregulated power that the IOC exercises in acting against the Olympic movement," Reiter explains.
So Reiter filed his lawsuit, arguing that the IOC's own rules prohibit changing an event schedule within three years of an Olympic Games. No athlete has ever before tried to sue the IOC to resurrect an event.
Reiter estimates that his legal expenses will top $175,000. He has created a page on RallyMe.com to fund the effort that requires two attorneys, one in the U.S. and one in Switzerland.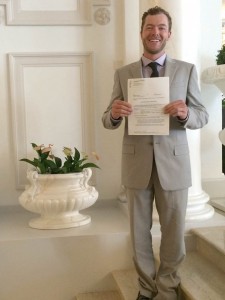 Reiter appeared with his attorneys last week at a preliminary court hearing in Lausanne, where after attorneys representing the IOC expressed their regret to Reiter but declined to entertain any amicable solution, presiding judge Pierre Bruttin  gave the green light for the lawsuit to proceed.
"While I appreciate the apologies of the IOC's counsel, I believe our victory today is important," Reiter said following Friday morning's proceeding. "The court has recognized that I have a legitimate claim, and will allow this suit to proceed in its court. I look forward to justice being served, and I'm thankful to the court in Lausanne for their time and service."
"I don't see much merit in the position of the IOC, but I am looking forward to litigating this matter in the Courts here in Lausanne," added Filippo Marchino, Reiter's U.S. attorney based in Los Angeles. "Fundamentally my client's claims are as real as they come. I believe the fact that the judge granted us authorization to formally proceed with litigation to be an acknowledgement of the same."
Parties will now prepare their briefs for the court's review.