Lakewood, CO – On Friday, January 8, 2016 at 10 a.m. in your local time zone, something special is scheduled to happen. Something unique. Something that has never been done (okay, maybe once or twice). Ski and snowboard areas in the U.S. will be offering a beginner lesson for either ski or snowboard in an effort to set the Guinness Book of World Records for the largest ever.
Save the date and spread the word. If you are a beginner who wants to learn, then sign up for this nationwide effort. If you already ski or snowboard then tell your beginner friends and family members about it.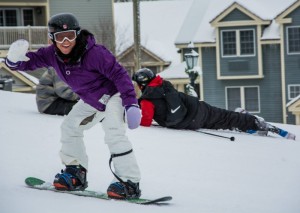 This is not one giant lesson, but many beginner lesson groups – with ski or snowboard – all taking place at 10 a.m. where you live. The  Learn to Ski and Snowboard Initiative and SNOW Operating are going after four records – largest single-venue ski lesson, largest single-venue snowboard lesson, largest multi-venue ski lesson and largest multi-venue snowboard lesson. Over 500 participants will be needed to defeat the existing single-venue ski lesson record.
Be part of history! Participating venues will be listed at www.learntoskiandsnowboard.org and details will be available soon. You will need to sign up at a participating venue and events will vary.