Park City, UT – The Park City and freeskiing communities are mourning the passing of Sam Jackenthal, 16, who died on Thursday from severe head injuries suffered in a skiing accident while training in Australia several weeks ago.
"We are heartbroken to share that Sam passed away late last night in Australia with his immediate family at his side," Sam's father Ron Jackenthal posted to Facebook yesterday. "We believe that while his physical body is no longer with us, his light and spirit will continue to shine bright and bring happiness to us all, just as he always has. It is our hope, that his incredible drive, compassion and passion for life can inspire others to live life to the very fullest."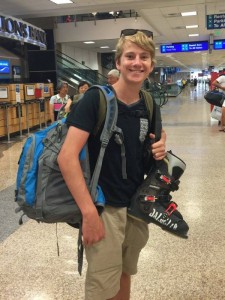 Lying in a hospital bed in critical condition in a coma, doctors in Canberra spent over three weeks trying to save Jackenthal, who won the Freeskiing Combined Championship at USSA Junior Nationals in 2015 that includes the Slopestyle, Halfpipe and Big Air events. He was participating in a two-week training camp at Australia's Perisher Resort with eight other athletes and two coaches from Team Park City United when the incident occurred.
According to Team Park City United executive director Ryan Walsh, Jackenthal and other athletes were freeskiing between training sessions when the accident occurred. He denies that Jackenthal was attempting any kind of trick or stunt, and wasn't competing or training at the time.
"Sam brought light and love to everyone who knew him — he made their lives better than before they met," recalls Team Park City United coach Chris "Hatch" Haslock. "I am comforted knowing that Sam's life was full of everything he loved. He lived to the fullest with passion and enthusiasm — an unabashed love for life."
Team Park City was recently created from the merger of three separate Park City-area winter sports teams: AXIS Freeride, Park City Freestyle and the Park City Snowboard Team. Jackenthal had been part of AXIS Freeride.
"As our community and his family have kept vigil these past few weeks, we've all learned so much about Sam as a remarkable person who brought joy to those around him and an athlete who was achieving his dream," said U.S. Ski and Snowboard Association (USSA) President and CEO Tiger Shaw. "Our hearts go out to the Jackenthals, as well as their extended family with Team Park City United."
Plans for any memorial services have not yet been established.