Mt. Hotham (VIC), Australia – Mt. Hotham is spending AUD $4.4 million ($3.1 million US) to upgrade its snowmaking this summer.
"This is the single biggest investment in snowmaking at Hotham since we partnered with government in 2008 to install the Loch snowmaking dam," says Mt. Hotham Skiing Company General Manager Belinda Trembath.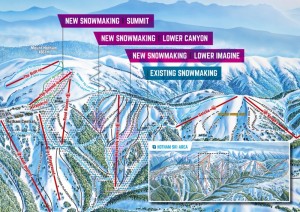 The project is designed to ensure adequate slope coverage for the Australian school holidays that run from late June to early July. More terrain for all abilities will be covered by 18 new fully automated TechnoAlpin fan guns, powered by an additional pump station in Heavenly Valley and a new sub-station in the area of the resort's Summit and Roadrunner lifts.
"Those beautiful bright yellow snowmaking machines are just the tip of the iceberg," says Hotham's General Manager of Operations, Len Dobell. "A lot of the magic of the new system will happen underground and behind the scenes, with a massive expansion of our pumping capacity and snowmaking pipelines, and a fully automated control system to take advantage of every possible snowmaking opportunity."
The project is scheduled for completion by June 1, 2016, with the expanded system fully operational by the opening of the 2016 ski and snowboard season.