North Creek, NY – The marketing slogan for Upstate New York's Gore Mountain ski center the past few years has been, "More Gore." This season, there truly will be More Gore, in the form of three new trails, more snowmaking, and a more welcoming base lodge.
Forever Wild, a new modern freestyle glade named after the mantra of the Adirondack Park Forest Preserve within which Gore Mountain is situated, will combine natural terrain park elements with the excitement of tree skiing. Hudson is located at the North Creek Ski Bowl and has been refined into a long narrow black diamond trail that follows the original route of the area's earliest ski pioneers. A connector route called The Peace Pipe provides a shortcut from the North Side of Gore to Pipeline Traverse.
Another purchase of high efficiency tower guns continues to modernize Gore Mountain's fleet of snowmaking equipment. This year, the newest guns have been placed primarily on Gore's popular Showcase and Wild Air trails. These guns require significantly less air than the more traditional ground guns, thereby offsetting energy use.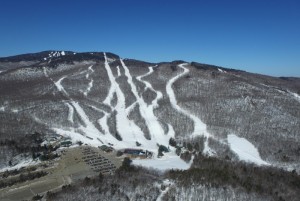 Significant earth-moving on the Headwaters trail, which many Gore Mountain summit trails feed into, is expected to reduce the snowmaking required to open it and improve the experience while skiing it, particularly during the spring. The loading area of the Straightbrook Quad was also regraded to ease the transition from Bear Mountain terrain to the entrance of the lift.
The Guest Services Office has been moved to the resort entrance of Gore Mountain, making it easier to quickly locate assistance. The resort's Bear Cub Den daycare has relocated to a quiet and secure location on the lower level of the Base Lodge. Upgrades to the complimentary wireless internet and new flooring have also improved Base Lodge facilities.
Gore Mountain has committed to a 25-year solar energy contract with Borrego Solar. This contract means more of the power required to operate ski lifts and make snow will be provided with clean, renewable energy. Gore Mountain is operated by a state agency, and this agreement is in keeping with New York Governor Andrew Cuomo's NY-Sun initiative.