Franconia, NH – Hot gourmet soups, cold brews and live music all come together for the 4th Annual Simmer N' Brew Fest at New Hampshire's Cannon Mountain ski area on Saturday, November 7th.
Net proceeds from the event will benefit Adaptive Sports Partners of the North Country and their project to install an outdoor elevator at the Peabody Base Lodge at Cannon Mountain.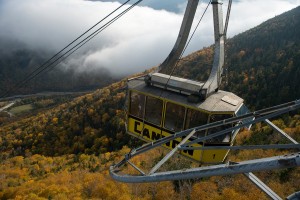 Held at the ski area's Peabody Base Lodge, the event for 21 and over includes beer and soup tasting from 3 to 5:30 p.m., and live music with Chad Verbeck, the Cuervo Brothers and Alligator Wine at the Cannonball Pub until 7:30 p.m.
This year, participating breweries include Woodstock Station Inn and Brewery, Moat Mountain, Sebago, Allagash, Harpoon, Sam Adams, Traveler Brewing Company, Sierra Nevada, Blue Moon, Miller/Coors, Brooklyn, Switchback, Clown Shoes, Great North, Shipyard, Peak's Organic, Narragansett, Nepenth and Otter Creek. Restaurants ladling out their signature soups will include Cannonball Pub, Sunset Hill House Inn, Miller's Cafe and Bakery, Moat Mountain Smokehouse, Woodstock Station and Inn, Rosa Flamingos, Cold Mountain Cafe, Alburitto's, Little Grill, Black Mountain Burger Company and The Lucky Dog.
Only 500 tickets are sold to this event. Tickets cost $30 in advance, $40 at the door (if available), and include unlimited sampling of gourmet soups and tasty brews, a special tasting glass, entry into a free door prize raffle, and live music all afternoon. Advance tickets can be purchased online at
CannonMt.com/events
 as long as they are available.
You can make a day of it in northern New Hampshire by attending the famed Franconia Ski Club Swap earlier in the day. Buy or sell new or used ski and snowboard equipment and clothing. Located at the Lafayette Regional School in downtown Franconia, equipment drop-off is from 5 to 8 p.m. on Friday night, November 6, while the swap takes place from 8 a.m. to 1 p.m. on Saturday. Thirty percent of sales supports the Club. Visit
www.franconiaskiclub.com
for more information.