La Mururata, Bolivia – It's been some time now since the rope tow has run on the glacier at Chacaltaya ski area in Bolivia. What was once the country's only lift-served skiing, as well as the second-closest ski area to the equator (after only the incredibly obscure Maoke in Indonesia), could soon be replaced by a new development on 19,262-foot La Mururata in Bolivia's Cordillera Real.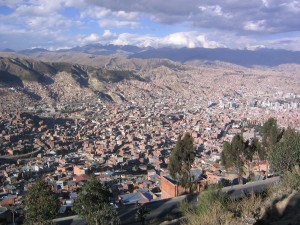 In the Andes of South America, you can make up for what you lack in latitude with altitude. The mountains surrounding The Mururata east of the city of La Paz have long been used for ski mountaineering, but at present there are no lifts.  Unlike Chile and Argentina, both home to vibrant ski resorts, tourism dollars have been slow to flow into Bolivia despite its rich diversity of natural resources and wonders. Upscale travelers have avoided the country, favoring neighboring Peru and leaving Bolivia to the backpacking and trekking set. Bolivia's workforce goes on frequent and debilitating labor strikes at the drop of a hat, and its electrical grid and other infrastructure are primitive and prone to failure. It's even hard to find a decent room for the night.
"Lack of accommodation and electricity supply made many travelers change their minds about visiting this country," government officials admitted in a press release issued this week that was short on tangible information about the new ski resort.
That infrastructure weakness is partially to blame for the disappearance of lift-served skiing at Chacaltaya; the engine that powered the rope tow, in existence since 1939, broke and no one ever bothered to fix it.  The ski area operated on a glacier mainly during the Southern Hemisphere's summer, and the glacier also finally melted away during a warm phase of El Niño in 2009.
Now the Bolivian government is proposing to spend $800 million, shared equally between the public and private sectors, to spark the flow of tourism dollars into this impoverished state. They hope to attract 7.1 million visitors a year by 2020, an increase of 4 million over numbers recorded in 2014, and a new ski resort on The Mururata is a key component of this plan. Also integral to the strategy are an improvement in transportation links between the Andes and the Amazon, and next year's opening of new boutique, Marriott, Starwood and Accor hotels in Santa Cruz, one of the country's business centers.
But it's the proposal for a new ski resort that caught our attention, and the Bolivian government has brought in what it describes as Austrian experts to help with its planning and development.
"We intend to position Bolivia as a top destination in South America. It is a synthesis of the region: the Amazon, the Andes, valleys and indigenous communities," said the country's vice minister of tourism, Marko Machicao.