Truckee, CA – Vail Resorts is accepting job applications for the upcoming 2015-16 winter season at its three Lake Tahoe-area ski resorts — Heavenly Mountain Resort, Northstar California Resort and Kirkwood Mountain Resort — and hosting job fairs on-site for each of the three mountains.
The resorts are "in search of brave, passionate, ambitious employees" to fill a variety of full-time and part-time positions at any of the three resorts in departments including food and beverage, mountain operations, retail, rentals, ticket and pass sales, and more. New this season, Vail Resorts will also hire 16- and 17-year-olds for jobs as cashiers, Ski and Snowboard School teachers' assistants, guest services representatives, parking attendants, cleaning attendants, ticket sales, scanning and more.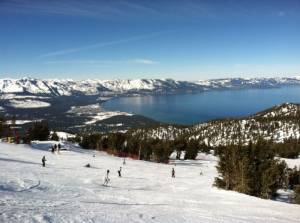 "The 'Best of Tahoe' resorts offer very diverse environments for their employees," said Beth Howard, vice president and general manager of Northstar California Resort. "Whether new hires are looking to work in a high-energy, fast-paced environment like Heavenly, a luxurious and family friendly resort like Northstar, or a true-blue, big-mountain, high base-elevation and backcountry ski experience like Kirkwood, there is something for everyone. The best part is that in addition to developing themselves personally and professionally, our employees are able to work and play in the great outdoors, skiing and snowboarding at not only one, but all three of the Best of Tahoe resorts, as they build their careers and gain work experience in one of the most beautiful places in the world – Lake Tahoe."
Vail Resorts has recently moved to increase the minimum wage to $10 per hour across all resorts and the company's Tahoe resorts have historically remained open for the entirety of the ski season, without having to cut full-time employee hours regardless of the drought conditions that have plagued Tahoe skiing over the past several years.
Benefits of working at Vail Resorts' Tahoe properties can include a season pass valid at multiple Vail Resorts mountains, free or discounted dependent passes, discounts on food, beverage and retail items at the resorts, complimentary and/or discounted lift tickets for friends and family, full benefits for full-time employees, 401K matching, lodging discounts at other Vail Resorts properties, access to ski and snowboard lessons, complimentary local area bus passes, a reliable and wide-spread bus transportation system available to employees around the lake and more. Vail Resorts properties are also known for hosting great employee events, as well as providing innovative training and incentive programs.
Job fairs are scheduled as follows:
Northstar California Resort: November 6, 4 p.m. – 7 p.m. in The Village at Northstar.
Heavenly and Kirkwood Mountain Resorts: November 7, 1 p.m. – 4 p.m. in the California Main Lodge at Heavenly.
Visit www.jobs.vailresorts.com to view all available positions, and submit applications.