North Vancouver (BC), Canada – It was time, she said, to move on.
Surrounded by friends, teammates, coaches and support staff, Canadian Olympic and World Champion Maëlle Ricker bid a sad farewell in a press conference held in North Vancouver on Wednesday to the competitive sport she loves so much.
"Snowboarding has provided me with so many amazing memories," she said. "I will never forget the progression that saw me strapping into my first snowboard wearing my father's boots over mine just so I could fit into my bindings, then riding bottomless powder on Whistler with my brother Jorli, and finally competing on the biggest sporting stage on the planet in my own backyard during the Vancouver Olympics. Truly – it's been a fantastic time."
Indeed. And the Squamish, B.C. resident's competitive career has been nothing short of exceptional. She entered her first snowboard cross race back in 1994. "It was so much fun," she said. "I loved the mix of speed and big airs… and just going for it from start to finish." She wasn't even sixteen yet, but already that fierce competitive nature of hers was beginning to assert itself.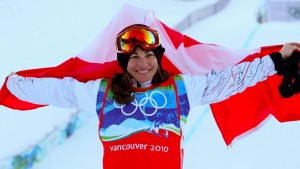 Ricker progressed through the ranks at a dizzying pace. In her rookie season on the snowboard cross World Cup circuit in 1996-97, she managed to reach the podium twice. Not even 20 years old … and already the snowsport world was taking notice.
Given her easy-going nature when she's not competing – and the somewhat violent aspects of modern snowboard cross — it's hard to grasp sometimes where Ricker's race aggression comes from when she pushes out of the start gate. "I love finding the place where you're on the edge of being in control but totally pushing the limit at the same time," she smiled. "There's no feeling quite like it."
And that attitude has brought her much success on the international stage. She's won the X Games twice, earned two Crystal Globes as the Overall World Cup Snowboard Cross Champion, triumphed against all odds in 2010 to become the first Canadian woman to capture Olympic gold at home, and finally in 2013 bagged the only major award missing in her trophy case: a World Championship title. But winning races isn't the whole story.
"There is nothing more exciting to me than being in an environment that combines my passion for travel with my love of the outdoors while still feeding my competitive urge," Ricker said. "Being an athlete on the Canadian Snowboard Team has been a dream come true for me. We have succeeded through the big days of training, the heartbreak of injury, and the taste of victory."
She's also been a shining example for the country's up-and-coming athletes, both male and female. "For the last two decades, Maëlle has been an inspiration to young riders around the world," said Canada Snowboard's Director of High Performance, Robert Joncas. "Her good humor, her work ethic and her resilience have been infectious… and will continue to be infectious! It's such a treat to work with her."
"Maëlle is an extraordinary athlete," added Marcel Mathieu, head coach of the Canadian Snowboard Cross Team. "Her love of the sport… her dedication to her coaches' strategies… her willingness to push herself in training, sometimes beyond reason… this is a woman who knows exactly what it takes to shine on race day. Our relationship has really blossomed with time, you know, so it's hard for me to encapsulate that friendship in just a few lines. One thing is sure though: she's one of the all-time greats!"
But snowboard cross is a tough sport. And it can be brutally demanding on an athlete. What with the crazy speeds, the high-flying acrobatics and wild collisions that racers are required to absorb week-in and week-out, it's no surprise that few of them make it through a World Cup season unscathed.
Still, even in this, Ricker is unique. Her comebacks from injury are legendary. Four major knee surgeries, a compound fracture of the arm, broken ribs, concussions; she's never let anything get in the way of her determination to race again. But there comes a moment in every athlete's career when the body and the mind say "enough." And at 36, Ricker is listening to both.
"I'd already told myself years ago: if I couldn't compete at 100% of my abilities, I would stop competing," she said. "And I found during training camp in South America this summer that I just wasn't able to give it my all anymore. So I decided it was time to move on. I don't want to race if I can't go all out."
Which doesn't mean she's dropping out of snowboarding. "I still love to ride," Ricker insisted with a mischievous smile. "Now that I'll have a little bit more free time, I'm hoping to get a lot more powder runs in the local mountains this winter."
Even so, she admits the idea of retirement has not been an easy one to digest. "The decision to step away from the start gate and no longer wear a race jersey is one that I will hold onto for many sleepless nights to come," she explained. "I won't regret the choice, however, because of the commitment from everyone in the program to help me get into a position to progress through a long rehabilitation and finally to get back on snow."
And given her passion for the sport, chances are this isn't the last time we'll hear from Ricker. "I don't have a lot of plans for the future right now," she explained. "But I'm already looking at ways I can help the Canadian Team progress to the next level."
It's a sentiment echoed by Patrick Jarvis, Canada Snowboard's Executive Director. "We look forward to exploring opportunities with Maëlle to keep her engaged in a manner that will continue to build on her snowboarding legacy," he said. "She's one of a kind – a real gift to the sport – and we'd love to find a way for her to share the enthusiasm she has for riding and racing with the next generation."