Truckee, CA – Often overshadowed by big alpine resorts, cross-country skiing — the most popular form of Nordic skiing — is one of North Lake Tahoe's biggest draws, offering the most concentrated area of groomed trails and snowshoe terrain in North America.
While most large downhill ski areas offer Nordic or snowshoe options, there are also a number of backcountry trails, rental and tour companies in North Lake Tahoe, as well as Royal Gorge, Tahoe Cross Country center, and the Tahoe Donner Cross Country Ski Center. There are many options to access, learn, and save on these scenic cross-country trails.
A new North Lake Tahoe Nordic 12-pack allows travelers to experience six cross-country resorts: Tahoe Cross Country, Tahoe Donner Cross Country, Royal Gorge, Resort at Squaw Creek, Northstar California, and the Auburn Ski Club). The packs are available through the North Lake Tahoe Resort Association for $270, include two tickets to each center and may be shared by multiple users. The price represents a 15% discount off individual trail passes. Learn to ski package upgrades are available for an additional fee and vary at each resort.
Auburn Ski Club – With 20 kilometers of groomed trails, this center offers a masters training (weekly training group) and citizen races, designed for skiers to test their technique and fitness. www.auburnskiclub.com/nordic
Northstar California – In addition to more than 35 kilometers of scenic groomed trails, the Cross Country, Telemark, and Snowshoe Center offers rental equipment, daily lessons, and some amazing snowshoe tours. Lesson, rental, and trail pass packages start at $79 for adults ($49 for kids). The 8th Annual Tahoe Rim Tour and Race, a 26-kilometer race from Tahoe City to Northstar, takes place February 1.
www.northstarcalifornia.com
Resort at Squaw Creek – The Stay and Play Lake Tahoe Vacation Package includes one night's accommodations and a $75 resort credit (per day). The credit can be used at the on-site Nordic Center, which boasts 18 kilometers of groomed trails. Daily group and private lessons are available.
www.squawcreek.com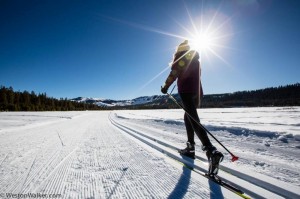 Royal Gorge Cross Country Resort – This mecca of cross-country skiing in the Sierra (and beyond) is home to 200 kilometers of groomed trails spread across 6,000 acres of varied terrain. Packages with rentals, lessons, and passes start at $65 for adults ($45 for kids ages six through 12). Demo packages are available for $29. Lessons are offered daily.
www.royalgorge.com
Tahoe Cross Country – Located in Tahoe City, this popular spot offers 10-packs for $185 (a $65 saving); free beginning skate ski lessons Saturday and Sunday mornings and Wednesdays; free beginning cross-country ski lessons Thursdays at10:30 and 1:30; and free intermediate skate ski lessons Tuesday mornings. The Nordic Neighbor Pass gives guests a full-day trail pass for $20 when a valid cross-country ski pass is presented.
www.tahoexc.org
Tahoe Donner – You're never too old to learn, and the Tahoe Donner Cross Country Center stands behind that sentiment with Learn to Ski Program for seniors February 4, 11, 18, and 25. Designed for students 65 years and older, the class meets from 1:30 to 3 p.m. and costs $81 for non-members. Custom coaching packages are also available and designed for groups of any size. www.tahoedonner.com/cross-country
Granlibakken Resort – This charming 74-acre resort tucked away just off the northwestern shores of Lake Tahoe is home to numerous trails and accesses the basin's many magnificent ungroomed backcountry trails, including the popular nearby Paige Meadows. The property also has on-site rentals and warming hut. www.granlibakken.com/ski_snowplay.php
Sugar Pine Point State Park – In winter, visitors can enjoy 11 miles of cross country ski and snowshoe trails. Follow the path of the Nordic events of the 1960 Winter Olympics that occurred in what is now Sugar Pine Point State Park. Starting at the blue Trailhead there is a series of interpretive panels that share Olympic and Nordic skiing history. In addition to cross country trails, the park also boasts snowshoeing tours – by full moon around the Hellman-Ehrman Mansion and by daylight to explore the natural environment that attracted Tahoe's earliest settlers.
www.parks.ca.gov
Tahoe Adventure Company – This group of well trained mountain enthusiasts leads snowshoe tours around Lake Tahoe's vast terrain. From leisurely walks or a more strenuous ascent of a nearby peak, guides offer fascinating natural and human history along the way along with complete instruction and safety information. Guided treks also include snowshoeing under the stars with a professional astronomer and full moon tours complete with snacks and hot chocolate.
tahoeadventurecompany.com