Panorama (BC), Canada – Following the completion of a major glading project and new ridgetop access road, skiers and riders will find Panorama's Taynton Bowl 60 acres bigger and more easily accessible this winter. Along with many other resort enhancements, this winter's guest will reap the benefits of more than C$10 million worth of recent improvements.
Taynton Bowl's high elevation natural snow and vast area is now more accessible to guests, following the completion of over $210,000 worth of terrain work. Three main areas of the 750-acre bowl have been gladed, including Kinbasket, Ktunaxa to Devil's Drop, Heli High, Lower Stumbock's and White Room. A new access trail has been built from the Summit Hut to Never Never Land along Taynton Bowls' ridgeline, giving Ski Patrol improved access to scope out the area, complete their avalanche control work and open Taynton Bowl more quickly on powder days.
"We've made a major change to the way people access the backcountry-style terrain of Taynton Bowl by widening the ridgeline significantly. The result will be a much more comfortable and enjoyable experience for guests by eliminating the need to clamber over ridge crests and obstacles to access our powder," says Steve Paccagnan, President and CEO of Panorama Mountain Resort.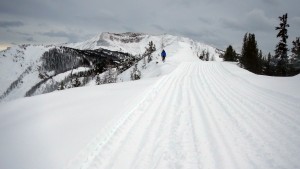 "There was a tremendous amount of work done to the terrain in Taynton Bowl this fall. Returning guests and new guests alike will be astonished by the 60 acres we've gladed and the impact it will have on the entire Taynton experience," continues Paccagnan.
The former heli-ski terrain of Taynton Bowl, now in-bounds at Panorama, is controlled for avalanches and is patrolled. Panorama guests venturing into Taynton Bowl can ski or ride down the mountain's full 4,019 vertical feet without specialized backcountry equipment or guide services.
In addition to the glading within Taynton Bowl, Panorama's trail crew also completed glading in the Extreme Dream Zone on the front side of the mountain. The newly gladed area extends from Last Chance to Fat Chance and Dunes to Toadstool in the lower section of the Zone.
For children, Panorama has added the Canadian Discovery Trail. A slim, twisting forest trail that winds in and out of the Discovery Zone, it will be groomed via a specialized snowmobile instead of a snow cat, due to the trail's narrow width. Designed to help accelerate progression, the new trail's natural terrain functions as a guided discovery to learning, complete with cartoon character figures along the way. Small rollers and banked turns in the Discovery Zone will further assist new skiers and boarders with edge and speed control in a safe environment.
Further catering to new skiers and boarders, a new ski-in / ski-out demo center is set to open in the Discovery Zone. Guests will have the opportunity to test out the latest ski and ride equipment for free. Panorama is also currently in the final stages of completing its Burton Riglet Park, which will be located at the base area in the Discovery Zone and will be open through February. The park will teach young children to snowboard in a fun and engaging environment.
A new option for slopeside lodging has opened for Panorama's overnight visitors. The 1000 Peaks Lodge is the resort's brand new 37-unit slopeside accommodation built in the footprint of its predecessor, which was destroyed in a late February 2013 fire. Completely re-built from the parkade up, the new lodge features a variety of studios and one-, two- and three-bedroom units with full kitchens that will be ready in time for the first day of Panorama's winter season on December 11. Centrally located in the Upper Village with the Mile 1 Express and amenities only steps away, guests can access over 4,000 vertical feet of skiing and Canada's largest slopeside hot pools right from their doorstep.